The CPI YoY fell to 7.7% from 8.2% the previous month, while the core CPI fell to 6.3% from 6.6% in September.
Market movement was impressive following the release of the inflation figure on Thursday.
Although a slight drop in the CPI and core CPI data was expected, the figure came in significantly lower than expected. The CPI YoY fell to 7.7% from 8.2% the previous month, while the core CPI fell to 6.3% from 6.6% in September.
The comments of Fed officials made after the figure was published, such as those of Logan and Harker, confirmed a shift in the Federal Reserve's trend. Both agreed that it was time to scale back the rate hikes; in fact, the market is now pricing in a final interest rate of 4.85%, down from 5.15% previously, and Harker was willing to pause the hikes at 4.5%, well below what the market is expecting.
This is a marked departure from Jerome Powell's troubling remarks at the last Federal Reserve meeting's press conference, in which he was excessively harsh, going so far as to ensure that final interest rate expectations should be revised higher than the 4.65% established at the September meeting.
US Treasury bond yields have fallen, with the 10-year bond down 4% and the 2-year bond down around 30 basis points. The US dollar fell with the news, pushed down by the extraordinary drop-in market interest rates, most notably in the USD/JPY price, which fell more than four figures during the session, losing nearly 3%.
These unusual market movements were mirrored in the stock indices, particularly the Nasdaq technology index.
Since technology companies are the most sensitive to tightening monetary conditions, the market reacted positively to news that the Fed may slow rate hikes. In fact, the Nasdaq index rose the most in a single day since the pandemic began.
The Nasdaq rose more than 5% and is approaching the 11,690 area, which acts as the trigger point for a double bottom that originated from the 10,640 levels and would pave the way towards the theoretical target of 12,800.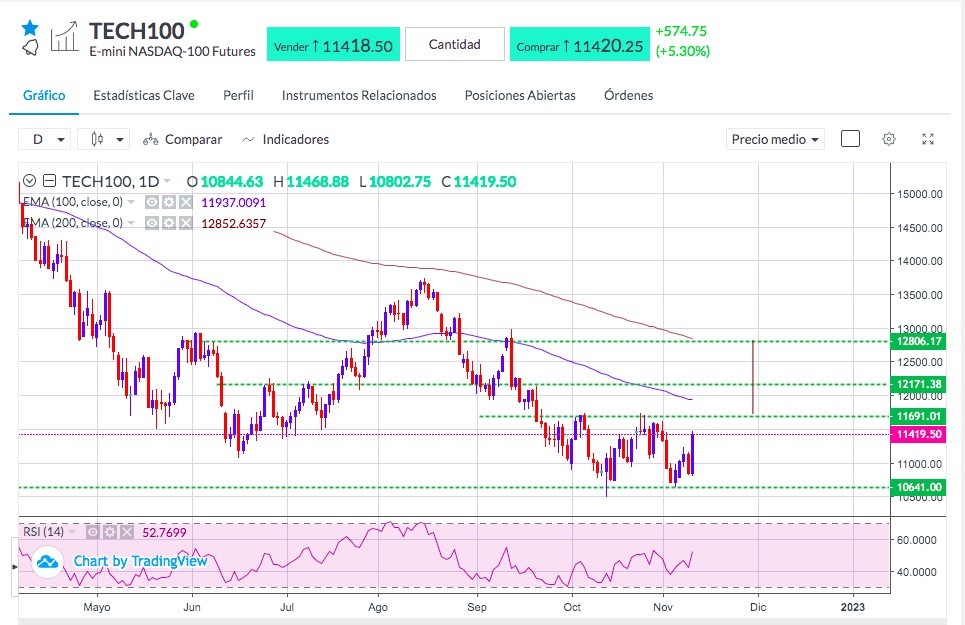 Sources: Bloomberg, Reuters
This information/research prepared by Miguel Ruiz ("the research analyst") does not take into account the specific investment objectives, financial situation or particular needs of any particular person. The research analyst primarily responsible for the content of this research report, in part or in whole, certifies that the views about the companies and their securities expressed in this report accurately reflect his/her personal views and consequently any person acting on it does so entirely at their own risk.

The research provided does not constitute the views of JME Financial Services (Pty)Ltd nor is it an invitation to invest with JME Financial Services (Pty)Ltd. The research analyst also certifies that no part of his/her compensation was, is, or will be, directly, or indirectly, related to specific recommendations or views expressed in this report.

As of the date the report is published, the research analyst and his/her spouse and/or relatives who are financially dependent on the research analyst, do not hold interests in the securities recommended in this report ("interest" includes direct or indirect ownership of securities).

The research analyst in not employed by JME Financial Services (Pty)Ltd. You are encouraged to seek advice from an independent financial adviser regarding the suitability of the investment, under a separate engagement, as you deem fit that conforms to your specific investment objectives, financial situation or particular financial needs before making a commitment to invest.

The laws of the Republic of South Africa shall govern any claim relating to or arising from the contents of the information/ research provided.

JME Financial Services (Pty) Ltd trading as ZA.CAPEX.COM acts as intermediary between the investor and Magnasale Trading Ltd, the counterparty to the contract for difference purchased by the Investor via ZA.CAPEX.COM, authorised & regulated by the Cyprus Securities and Exchange Commission with license number 264/15. Magnasale Trading Ltd is the principal to the CFD purchased by investors