Tron (TRX) has been steady in 2022, despite the crypto bear market. Is TRX a Buy, Sell, or Hold? CAPEX looks at TRX's price predictions for 2022 and beyond.
Tron (TRX) is one of the major altcoins and it offers an attractive investment option for those looking for special projects. Tron is one of the most unique cryptocurrencies out there, making it an attractive option for investors.
The Tron network was created to facilitate the sharing of digital content. The network's purpose is to create a direct link between content creators and their consumers using the peer-to-peer feature of blockchain technology. This would allow them to eliminate the middleman and democratize the worldwide digital content entertainment industry.
Tron's native cryptocurrency, the Tronix (TRX), is the backbone for all transactions between content creators and those who consume their content. Tron network benefits from the decentralized nature of a blockchain network. Active social media content creators and gamers might be the first beneficiaries of this decentralized system.
More recently, Tron prices have not plunged alongside the broader cryptocurrency market, losing only 50% of its value since November 2021 crypto peak.
But what can we expect from Tron in the future? Will TRXUSD price rebound in 2022? Will the Tron price surge or plunge in 5 years?
This article aims to address all the queries related to Tron price prediction for 2022 and beyond, fundamentals, and technical updates.
Tron (TRX)

Outlook: Where we are now
Justin Sun, a tech entrepreneur, created the Tron network in 2017. Tron was launched via an initial coin offering (ICO) that collected over $70 million. Today, Tron is one of the most popular altcoins on the crypto market and it ranks in the top 30 cryptos.
Tron's purpose is to eliminate the middleman between content creators and content consumers using a decentralized blockchain platform, that is specifically designed for entertainment and content. This is a way to ensure that content creation costs are lower, and that consumers get better content. Without any intermediaries, content creators can charge lower prices while still earning enough, and it also allows content consumers to spend less but consume more.
The cryptocurrency TRX powers the Tron network. TRX facilitates frictionless payments and is helping to eliminate financial middlemen from today's social media channels.
Tron's price hasn't seen major shifts in 2022.
Tron Foundation, based in Singapore, is the governing body of the Tron blockchain. They are dedicated to promoting and developing the blockchain. Tron's founder, Justin Sun has been included in the Forbes list 30 Under 30 in Asia.
In 2018, Tron Foundation announced that they have acquired BitTorrent, a peer-to-peer torrent-sharing network and that they will start using TRX tokens to reward and incentivize the network's users. The news caused a massive reach in the market and TRX has quickly gained interest, reaching a market cap of $1 billion.
There have been many other projects announcements since then. The most prominent is the Odyssey which established a system to incentivize content creators. The Great Voyage and Apollo are two of the development stages that allow content creators to create their brands and to issue personalized initial coin offerings to raise funds to support their projects.
TRX is backed by a strengthened decentralized network. It aims to provide an advantage to its users through its rewards system. The vision is to enable decentralized applications on the Tron blockchain while consuming less energy and offering greater reliability - all at a great speed.
The team has also announced an entire Tron NFT (non-fungible tokens) ecosystem that aims to become an accessible technology and to encourage more developers to use it for their decentralized applications (DApps). Developers who join the TRON platform are entitled to a wide range of rights, including the ability to deploy DApps on the Tron network, a great ecosystem to foster and grow their businesses and gain traction as thought-leaders and influencers.
Tron also provides an alternative platform for digital media sharing, eliminating the need to use intermediaries. All data is encrypted via blockchain, and creators can take full profits.
Privacy is also an important feature of Tron's cryptocurrency. This will set a standard for content creators and will make Tron a fierce competition for giants such as Facebook and Google, who sell your data, making their users' accounts vulnerable to manipulation.
Plans to further develop the ecosystem are also in place. The next phases from the project's roadmap are Star-Trek, expected to launch in the middle of 2023, and Eternity, in 2025.
The Tron blockchain will see an increase in interest over the next years as these new development phases unfold, which could lead to a price surge.
On December 17, Justin Sun announced that he would be leaving TRON. The TRON Foundation stated that it has settled for dissolution on July 25, 2022.
Although Justin Sun has stepped down from his CEO role, he continues to get involved in the actions of TRON DAO, and that gets a lot of media attention. In July 2022, he announced on Twitter that he is willing to spend up to $5 billion to help crypto projects that are struggling in the bear market of 2022.
With 2022 already looking like another roller-coaster period for digital currencies, CAPEX looks at Tron's price predictions from best-rated websites and experts.
Tron

Price Prediction 2022 and beyond
Tron (TRX), like any other cryptocurrency, experiences a fair share of volatility and the future growth rate of the TRX coin is hard to predict.
TRON's price momentum could also have a steady but slow growth, which is consistent with the incredible long-term earning potential. This is entirely dependent on the dedication of the team working on the project.
Tron's price has always been a controversial topic and some crypto experts have claimed that the team needs a better marketing strategy to attract a higher community. As more partnerships and developments are made, it is expected to see more investors join the project. Having a few institutional investors on their side could help push the price upwards.
As of July 2022, Tron (TRX) trades at around $0.06844.
TRX price prediction site Wallet investor suggests that Tron's price will rise above $0.09 in 2022. The Tron forecast for 2022 predicts that the price of TRX will rise throughout the year, reaching a maximum of 0.0978 and an average of $0.0754 in December 2022.
DigitalCoin is more optimistic about its Tron forecast. It predicts that the price of TRX will be around a minimum of $0.0830 and a maximum of $0.0936 by the end of 2022.
The long-term forecast for Tron from Price Prediction shows that the price will rise between $0.093 and $0.10 in 2022 and that the coin has a growing trend.
Trading Beasts has set a Tron price target between $0.075 and $0.11 in 2022. They predict that the average price of Tron will be $0.088 by the end of 2022
According to Long Forecast, Tron can reach a maximum of $0.073 in 2022, and the average price of Tron by the end of 2022 could be $0.068.
It's important to remember that analysts' forecasts can be incorrect when predicting Tron prices. Analysts make projections based on a technical and fundamental analysis of the crypto's performance. However, past price performance does not guarantee future results.
You should do your research and remember that trading decisions are influenced by your attitude towards risk, market knowledge, and your tolerance for losing money. The consensus, when it comes to crypto, is to not invest more than you can afford to lose.
Our Tron

Prediction Today
Although celebrity endorsements are not new in the cryptocurrency space, they are particularly relevant to Tron due to its core mission to be a universal platform that allows the sharing of creative content.
In 2021, a few notable celebrities expressed their optimistic opinions about Tron, on their Twitter feeds. When Lindsay Lohan launched her NFTs, Justin Sun was one of the firsts to congratulate her on Twitter. She also noted TRX's "super-fast and 0 fee" blockchain. Lohan agreed to list her NFTs via a clearinghouse powered by the Tron blockchain.
However, Tron's evolution has remained steady throughout the first half of 2022.
Other celebrities endorsed the Tron network on Twitter and Sun denied having paid them. However, the young CEO successfully positioned the Tron network as an Ethereum competitor, that is ready to host NFTs.
All these developments could drive up the price of Tron, reaching close to its all-time high of $0.35 by 2025, according to PricePrediction.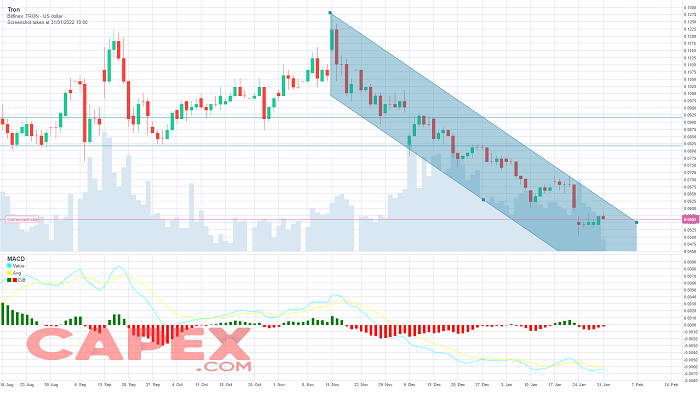 TRX chart shows a range market during the first half of 2022.
Traders can enter in the direction of a breakout or breakdown from a trading range. To confirm the move is valid, traders should use other indicators, such as volume and price action.
The technical indicators like MACD, RSI, or Stochastic are building bullish divergences indicating a more likely accumulation and the bottom.
The nearest support zone is at $0.055, and the closest resistance zone is $0.070, followed by 0.08 and 0.09, the upper bands of the sideways movement.
While we can speculate about the potential price of Tron over the next months and years, the truth is that Tron still is a highly speculative investment. There are not much historical data to support these predictions. It is important to invest only what you are willing to lose and include some traditional investment instruments to build a strong portfolio.
Your investments should be small, and you should not place crypto investments above other financial goals, such as saving for retirement or paying off high-interest debt.
Tron

Price Prediction 2025
There are indications that the crypto market is entering a new era.
There is no doubt that TRX's long-term price prediction will rise as there is still optimism about the currency attracting more attention.
According to the latest TRX price predictions, it could reach $0.15 or more by the end of 2025. WalletInvestor predicts that the maximum price in 2025 could be $0.149. On the other hand, the average price predicted for 2025 could be $0.0749. However, price predictions do not always reflect long-term earning potential. It is important to analyze the potential financial consequences of this investment to determine if it is a wise financial decision.
Tron Price Prediction 2030
Are you expecting Tron to rise in value? The same applies to Tron price predictions as it does to weather forecasts. The further we go into the future, the harder it becomes to try to predict the price of Tron. The world of 2030 may be quite different from what we see now. What does 2030 hold for Tron?
By 2030, PricePrediction forecast that Tron's price could reach $2.34. If the market becomes bullish, the minimum price could rise to $1.92, according to a 2030 Tron prediction from PricePrediction.
Is It Possible to Forecast the Price of

Tron (TRX)

?
Many price predictions for Tron (TRX) are flawed because they lack the necessary analytical support. Investors will always be attracted to a high price point, especially one that is on an upward price trend. Someone holding a cryptocurrency priced at $0.01 could easily believe that it will rise to $10,000 just because it sounds good.
The problem is that predictions can be made without any evidence or analysis. However, three types of analysis have been used in the financial world for a long time to try and forecast prices and the evolution of markets.
Technical Analysis

Fundamental Analysis

Sentimental Analysis
Tron Forecast using fundamentals
Investors in financial markets use fundamental analysis to study and evaluate the variables that impact an asset's price.
You can assess the intrinsic value of a cryptocurrency to determine if it is undervalued or overvalued. This can be achieved by analyzing qualitative factors like the state of the economy and cryptocurrency market conditions, as well as the management and market capitalization of crypto companies.
Fundamental analysis can help traders determine the price of a cryptocurrency based upon a wide range of information. This could be a great way to make long-term investment decisions.
How to conduct a Tron (TRX) price prediction today using fundamentals?
Fundamental analysis is when you examine the fundamentals of cryptocurrency projects, from their market capitalization to the utility and value of the native token.
Do not confuse the fundamental analysis and technical analysis. Fundamental analyses of cryptos are more qualitative and less tangible than statistical trends like price charts or historical market data.
The fundamental analysis of cryptocurrency is like that of traditional financial markets with more traditional assets such as stocks. It is not as important to focus on a company's historical financial performance, financial statements, or balance sheets.
The following parameters can be used to help investors predict trends in crypto markets:
Market capitalisation

Total and circulating supply

Token utility and use cases

Community size

The team of the crypto project

The crypto's trading volume
Crypto exchanges listings
Partnerships with trusted institutions
The latest news about the coin
Government rules and regulations
It is important to remember that fundamental analysis can only give you an overview of cryptocurrency investments. You can better understand the project and the future changes in cryptocurrency prices by looking at all the information. To get a better picture, you can also refer to the company's whitepaper.
You can also examine blockchain metrics which provide crucial information about a cryptocurrency's technology and processes.
Tron (TRX) Forecast using

technical

analysis
Technical analysis uses historical price charts and market statistics to examine and anticipate price changes in the financial markets. It is founded on the concept that if a trader can recognize historical market trends, they may anticipate future price trajectories accurately.
Whereas fundamental analysis focuses on an asset's 'real value,' considering both external and intrinsic elements, technical analysis is only based on an asset's price charts. To anticipate future movements, all that is required is the recognition of patterns on a chart.
The ability to recognize price trend cues in a market is an important part of any trading strategy. All traders must devise a strategy for determining the optimal entry and exit points in a market and using technical analysis tools is a popular technique for doing so.
Technical analysis software is now so widely utilized that many people believe it has established self-fulfilling trading rules: As more traders use the same indicators to find support and resistance levels, more buyers and sellers will congregate around the same price points, repeating the patterns.
In general, technical analysts look at the following broad types of indicators, formations, and theories:
Price trends (

trendlines

,

channels

,

Elliott Waves

,

Dow Theory

)

Chart patterns (

double tops and bottoms

,

head and shoulders

,

triangles

,

wedges

)

Price action (

pin bar

,

inside and

outside bars

,

and different

candlesticks chart patterns

like Doji candle)
Trend following indicators (

moving averages

,

Ichimoku

,

Parabolic SAR, ZigZag,

ADX

)

Volatility indicators (

Bollinger bands

,

ATR

)

Oscillators (

RSI

,

MACD

,

CCI

,

Stochastic

)

Support and resistance levels (

Fibonacci retracements

,

pivot points

)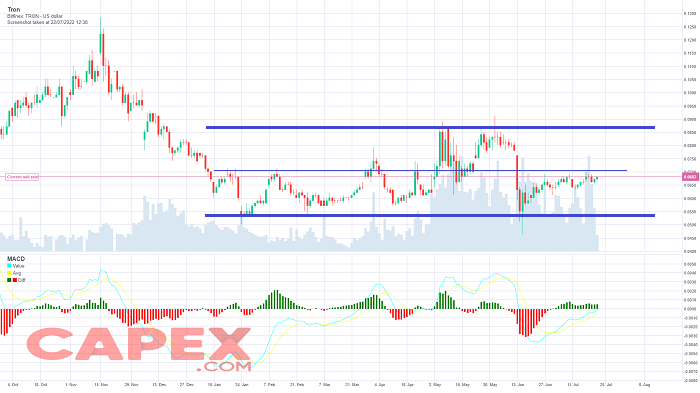 Traders and analysts utilize a range of technical indicators to recognize chart patterns and forecast potential changes in the trend direction.
On the chart, it appears as two oscillating lines with no limits. As shown in the TRX daily chart example above, the crossover of the two lines generates trading signals like a two-moving-average strategy.
The indicator is considered bullish when the MACD line crosses from below to above the signal line. The signal becomes stronger as it descends below the zero line.

The indicator is considered bearish when the MACD line crosses from above to below the signal line. The signal becomes stronger as it rises above the zero line.

When the MACD and

price action

diverge, it is a stronger indication that reinforces the crossing signals.
Tron

Price Prediction Using

Market Sentiments
In finance, the term "sentiment" refers to a viewpoint or opinion about a market's condition. The sentiment of crypto market investors towards the asset is a description of their general emotions and attitudes. It reflects the collective psychology of all those involved in trading and developing cryptocurrency.
How investors feel about cryptocurrency can have a tangible impact on market cycles and the price. It can have serious implications if enough traders act on the ideas, thoughts, and feelings they share, regardless of whether they are based upon real-world data. This is evident in how tweets by Elon Musk have impacted Bitcoin's price (a bullish sentiment).
For analyzing the sentiment of cryptocurrency markets, there are many statistics you can use. The following statistics provide vital information about the movement and trajectory of cryptocurrency assets: funding rates, sentiment indices, social media, community analysis, and whale monitoring.
The funding rates are the monthly payments that traders receive based on price differences between the spot price of currencies and tokens and the price difference between cryptocurrency perpetual contracts. Positive funding rates indicate a bullish market.
A sentiment index is used to predict whether investors will act fearfully or greedily. It can be affected by volatility, market momentum, and investor responses to surveys. A fearful market can be an opportunity to buy if it is managed correctly. Conversely, a greedy market means that it is a good moment to sell.
Another crucial aspect for assessing sentiment in crypto markets is the community's activity on social media, especially Twitter and Telegram. Investors would look for an active social network with meaningful interaction across platforms.
Whale monitoring is the process of keeping an eye out for big crypto players. A cryptocurrency whale is an investor who holds large-value transactions on multiple blockchains is called. Whale watchers spot major market participants' trades and trade accordingly.
Tron's price has been rising and falling since the project's launch in 2017. However, Tron really began to gain traction in 2020, with many interesting occurrences that influenced its price. Tron is aiming to have a significant impact on the content market and the Tron network will influence both the existing space and the future of online content.
The company's most significant announcements over the past few years included the acquisition of BitTorrent, a popular torrenting site. Although this acquisition was completed in 2018, it helped to establish Tron as a major player and help grow Tron's future.
It is important to note that the price of TRX responded to the acquisition of this major tech company, but the positive rumors about the project had a greater impact on TRX's price. Before the official announcement of the acquisition was made, many rumors circulated on social platforms, which accounted for TRX's price reaching its second-highest point, in 2018, at $0.09.
Other factors that have affected Tron's price include good partnerships. However, the team is also heavily focused on the PR done by their CEO, Justin Sun.
Tron traders have become accustomed to following Tron's CEO on Twitter to see big announcements. This is often enough to born new rumors and causes the price to rise.
Tron also saw a significant price move in 2020, with the Tron Foundation continuing to make developments on the platform. Tron launched several DeFi projects to compete with Ethereum and has received its own Twitter emoji. In 2020, Tron's price started to pick up and the trend continued in 2021.
Tron attempted to set a record in 2021 but failed. It is currently trading at support. As of July 2022, the circulating supply of Tron is 92.441 billion TRX. Tron's current price is $0.068, with a 24-hour trading volume of $722 million. According to CoinGecko, Tron's all-time high value was reached on January 5, 2018, at $0.2316.
Is Tron worth buying in 2022?
Tron is a unique crypto investment alternative, as it offers a decentralized platform for content creators to share their digital creations without the need for middlemen. The community is expecting new developments from the Tron Foundation, which could drive the price up by the end of 2022.
How high can Tron go in 2022?
Most cryptocurrency forecasters have made optimistic predictions for Tron's price in 2022. One of the most optimistic forecasts is $0.11, by TradingBeasts.
Will Tron crash in 2022?
According to most experts and prediction websites, Tron has a low chance of crashing in 2022.
Does Tron have a future?
Tron aims to revolutionize the relationship between content creators and content consumers, by creating a direct bridge between the two. Thus, the network aims to eliminate the need of big companies, such as Facebook or Google, that harvest users' data and sell it to the highest bidder.
What will Tron be worth in 5 years?
Tron has a good chance to rise over the next five years, as more developments are planned by the Tron Foundation. According to PricePrediction, Tron could be worth $0.64 by 2027.
What Tron will be worth in 2025?
According to DigitalCoinPrice , Tron's price could surge to $0.15 by 2025.
What Tron will be worth in 2030?
Predicting the price of any cryptocurrency so far off into the feature is often impossible, but according to PricePrediction, the average price of Tron (TRX) could reach over $1.97 by 2030.
This information/research prepared by Miguel Ruiz ("the research analyst") does not take into account the specific investment objectives, financial situation or particular needs of any particular person. The research analyst primarily responsible for the content of this research report, in part or in whole, certifies that the views about the companies and their securities expressed in this report accurately reflect his/her personal views and consequently any person acting on it does so entirely at their own risk.

The research provided does not constitute the views of JME Financial Services (Pty)Ltd nor is it an invitation to invest with JME Financial Services (Pty)Ltd. The research analyst also certifies that no part of his/her compensation was, is, or will be, directly, or indirectly, related to specific recommendations or views expressed in this report.

As of the date the report is published, the research analyst and his/her spouse and/or relatives who are financially dependent on the research analyst, do not hold interests in the securities recommended in this report ("interest" includes direct or indirect ownership of securities).

The research analyst in not employed by JME Financial Services (Pty)Ltd. You are encouraged to seek advice from an independent financial adviser regarding the suitability of the investment, under a separate engagement, as you deem fit that conforms to your specific investment objectives, financial situation or particular financial needs before making a commitment to invest.

The laws of the Republic of South Africa shall govern any claim relating to or arising from the contents of the information/ research provided.

JME Financial Services (Pty) Ltd trading as ZA.CAPEX.COM acts as intermediary between the investor and Magnasale Trading Ltd, the counterparty to the contract for difference purchased by the Investor via ZA.CAPEX.COM, authorised & regulated by the Cyprus Securities and Exchange Commission with license number 264/15. Magnasale Trading Ltd is the principal to the CFD purchased by investors