Global shares jump as earnings boost. US Dollar hits 20-year high
Tech stocks rose during yesterday's session with solid gains, led by a rally in Facebook parent Meta Platforms, which rose nearly 19%. At the close of the session, Amazon and Apple published disparate quarterly results. While Apple beat analysts' forecasts, Amazon suffered a $7.6 billion loss in non-operating expenses following its investment in Rivian Automotive.
However, the session saw significant gains that supported Wall Street even after the US Commerce Department estimated that gross domestic product fell by 1.4% last quarter.
Although according to some analysts, the headline is misleading since inventories and public spending were items that experienced a significant decline, consumption and business investments were solid. On the other hand, this figure may mean that the Fed is taking greater precautions when deciding on the monetary policy. The interest rates the market is already discounting are not so restrictive. This, if so, would be a relief for the markets that have seen more aggressive decisions by the Federal Reserve, especially for tech stocks that have been the most affected by interest rate rises.
Today, the figure for personal consumption expenditure will be made public and closely followed by investors to evaluate the evolution of inflation for March. If it shows any sign of regression, it could also influence future Fed decisions.
Currencies
Extraordinary movements are taking place in the foreign exchange market with a generalized strengthening of the US Dollar. The strength came due to increases in interest rates and capital flows towards safe-haven assets (of which the Dollar seems to be seen as). Rebalancing flows at the end of the month on this occasion are entirely on account of US Dollar buyers.
This strength of the US Dollar is causing distortions in the market, mainly on USD/JPY, which has reached the highest levels in the last 20 years. This is concerning to the Japanese monetary authorities, who have already spoken out against what they consider disorderly movement and threatened to intervene in the market to stop it.
Technically, the next reference level would be around 134, but the daily RSIs are already showing a triple bearish divergence that points to corrections in the pair.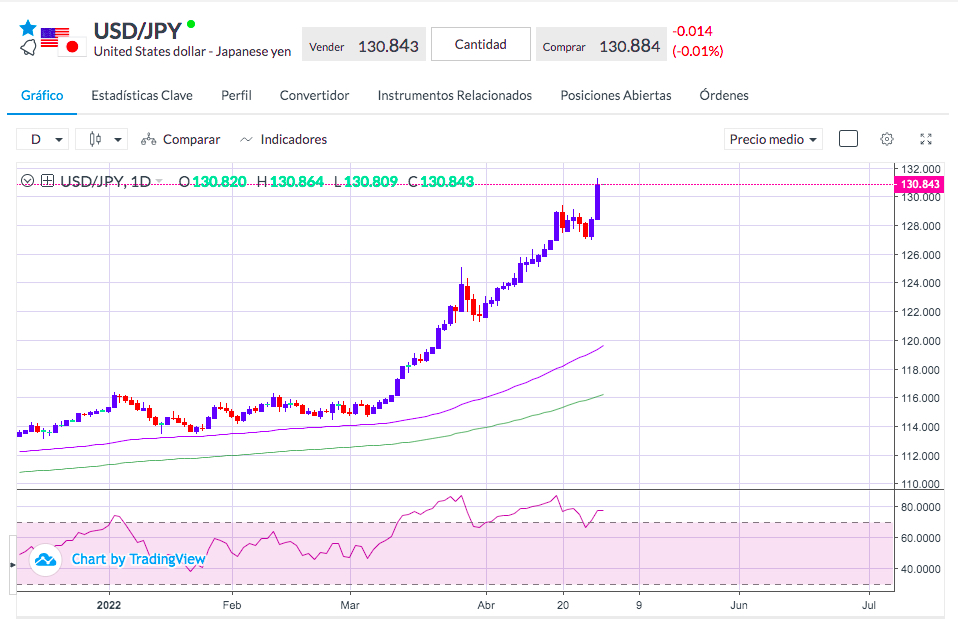 Sources: Bloomberg.com, reuters.com
This information/research prepared by Miguel Ruiz ("the research analyst") does not take into account the specific investment objectives, financial situation or particular needs of any particular person. The research analyst primarily responsible for the content of this research report, in part or in whole, certifies that the views about the companies and their securities expressed in this report accurately reflect his/her personal views and consequently any person acting on it does so entirely at their own risk.

The research provided does not constitute the views of JME Financial Services (Pty)Ltd nor is it an invitation to invest with JME Financial Services (Pty)Ltd. The research analyst also certifies that no part of his/her compensation was, is, or will be, directly, or indirectly, related to specific recommendations or views expressed in this report.

As of the date the report is published, the research analyst and his/her spouse and/or relatives who are financially dependent on the research analyst, do not hold interests in the securities recommended in this report ("interest" includes direct or indirect ownership of securities).

The research analyst in not employed by JME Financial Services (Pty)Ltd. You are encouraged to seek advice from an independent financial adviser regarding the suitability of the investment, under a separate engagement, as you deem fit that conforms to your specific investment objectives, financial situation or particular financial needs before making a commitment to invest.

The laws of the Republic of South Africa shall govern any claim relating to or arising from the contents of the information/ research provided.

JME Financial Services (Pty) Ltd trading as ZA.CAPEX.COM acts as intermediary between the investor and Magnasale Trading Ltd, the counterparty to the contract for difference purchased by the Investor via ZA.CAPEX.COM, authorised & regulated by the Cyprus Securities and Exchange Commission with license number 264/15. Magnasale Trading Ltd is the principal to the CFD purchased by investors