Oil prices plunged a staggering 25% in the third quarter under the weight of deteriorating expectations for global economic growth.
The WTI benchmark and Brent Crude finished their worst three-month run (Q3) since the onset of the Covid-19 pandemic at the start of 2020, shedding close to 20 percent. Both Oil brands lost almost $50 from their highest prices of the year reached on March 7.
With so many factors pulling oil prices in different directions, will oil prices continue to fall in the last quarter of 2022? Read on for detailed oil analysis, including all the factors affecting oil price movement and the latest oil price predictions from agencies, and big banks.

Oil Price Prediction – Summary
Oil price prediction today

:

Crude oil prices

may continue to fall

in the next period

as slowing growth cools demand

Oil price prediction 2022

:

While EIA

left its

brent

crude

oil

forecast unchanged

, Goldman Sachs downgraded its oil price predicti

on for 2022

.

Oil price prediction 2023

: most of the updated

Gold

Oil price

forecasts for the end of 2023 see the price below

$100 per barrel

.

Oil price

prediction for the next 5 years

and beyond

:

although

disruptions and slower-than-expected crude oil production growth continue to create the potential for higher oil prices,

expe

rts forecast Oil to drop

significantly
With CAPEX.com you can trade WTI Crude Oil and Brent Oil futures through CFDs if you want to speculate on price movements or invest in Oil stocks and ETFs.

Crude Oil Analysis Q4 2022 –

Fundamental Forecast: WTI

& Brent

May Fall as Growth Slows, Russia and Ukraine Conflict Evolves
Oil losses during the last 2 quarters have two main drivers:
Russia's invasion of Ukraine continues to disrupt global supplies;

OPEC+ group comprising the producers' cartel and its allies – a forum mostly fronted by Saudi Arabia and Russia – has switched gears to coordinated output cuts, having promised increases for much of the year.
A shift in market focus from haphazard supply to deteriorating demand appears to be at work. For this reason, most of the banks and agencies downgraded their Oil price prediction for 2022.
As Central Banks fight inflation, Crude Oil s
uffers
The estimate for the base level of economic growth has been sharply downgraded as a result of an aggressive campaign by international central banks, led by the US Federal Reserve, to contain a strong increase in inflation. According to a Bloomberg survey of economists, the projected global GDP growth for 2019 has dropped from 3.6 percent in early March to just 2.5 percent.
Over this time, the actual yield on 2-year Treasury bonds increased from -3.01 to 1.77 percent. This is because monetary tightening increased nominal rates while lowering anticipated inflation. This places the real cost of borrowing for the short- to medium-term just shy of its peak in 2018 at 1.9 percent. When this decision was made, it was the highest level since early 2009.
The cost of financing all forms of economic activity has increased due to the quick increase in loan rates. So it comes as a little surprise that anticipated growth rates have fallen, along with cyclically sensitive crude oil prices (albeit with a brief detour in early 2022 as the Russian invasion began). In order to maintain these factors in play, the Fed has loudly expressed its firm intention to sustain swift tightening in the months to come.
C
an Ukraine and Russia set a ceasefire?
If the crisis in Ukraine starts to end on the battlefield, the geopolitical risk premium still built into energy prices may experience further selling pressure. Such a turn may be imminent, as suggested by the Kremlin's decision to call up 300,000 reserve soldiers to defend the "homeland" in late September as the separatist Donetsk and Luhansk areas of Eastern Ukraine hurriedly held referendums on Russian annexation.
The Eastern Ukrainian border has seen skirmishing for about 8 years. The early-year measure appears to be an effort by Moscow to definitively resolve the issue in its favor. Now, it appears that a force two-thirds bigger than what Russia has so far sent to Ukraine is getting ready to stop reversing territorial gains made in 2014. At this point, pro-Russian separatism developed into a military operation, and Crimea changed hands.
Such buildup raises the possibility that the Kremlin may no longer envisage a favorable settlement being achieved through force in the wake of a stunningly successful Ukrainian counteroffensive. This might imply that a ceasefire is imminent. All parties concerned might be happy with that. Kyiv might boast that it resisted the invasion, the West can take pride in having stopped Russia without sending troops there, and Moscow will have effectively solidified its gains from 2014.
Oil price
and the US Stock Market
In the past few years, the price of Brent crude oil has often, but not always, moved in the same direction as the US stock market. For example, from the second half of 2020 (2H20) through 2021, the Brent crude oil price and the value of the S&P 500, an equity index of widely traded U.S. public companies, both increased as economic growth was reflected in the rising profitability of companies as well as in rising demand for oil.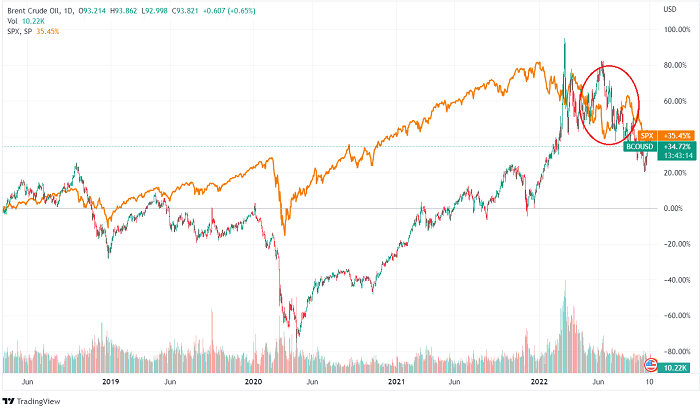 Oil prices and equities began moving in opposite directions in early 2022 when the price of crude oil continued increasing as Russia's full-scale invasion of Ukraine intensified global petroleum supply concerns. These price increases contributed to higher inflation and input costs for companies, leading to a decline in the USA 500, US Tech 100, and USA 30. As the Federal Reserve has increased interest rates to curb inflation, borrowing costs for companies have grown and expectations for economic growth have declined, putting further downward pressure on the S&P 500. However, from July to September 2022, the price of Brent crude oil resumed a positive relationship with equity prices, with both declining as concerns about global economic conditions also reduced expectations of petroleum demand growth, accompanied by pressure from the strong US dollar.
Oil
price and inflation expectations
Inflation expectations also often move together with crude oil prices. One measure of inflation expectations is the percentage difference between yields for five-year Treasury Inflation-Protected Securities (TIPS) and U.S. treasury bonds. This spread indicates expectations for what the inflation rate will be in five years. Inflation expectations peaked in March at 3.6%, decreasing in recent months in part due to:
Inflation, as measured by the U.S. Consumer Price Index, has flattened and slightly decreased recently, in part because energy-sector inflation has slowed down as oil prices have dropped; and

Expectations for future economic activity, have also fallen.
Although the price of Brent crude oil continued to increase from April to June when inflation expectations were decreasing, persistent concerns about economic conditions and petroleum demand have contributed to crude oil prices decreasing with inflation expectations from July through September.
Crude Oil Analysis Q4 2022 – Technical

Forecast:

Breakdown Underway
Late in September, WTI began to decline near its yearly lows. Further decreases in the upcoming months are threatened by the breakdown below confluent technical support. As price moves into critical inflection points that could provide a respite from the recent selling pressure, traders should keep an eye out for a potential exhaustion low until the end of the year.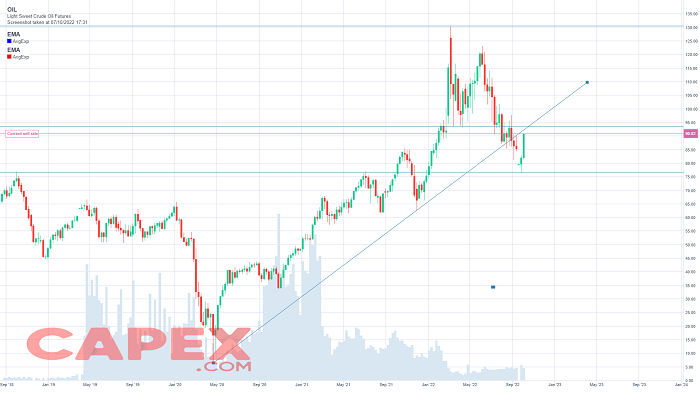 Oil prices are nearly 40% off the yearly highs with a four-month decline (intermediate trend counter-trend) taking WTI below a key support zone I've been tracking for months now at 74.94-76.87 – a region defined by the 2018 high, the July swing high and the 100% extension of the yearly decline.
A significant pivot zone can be found just lower at 65.92-66.57. Both zones are of interest for possible downside exhaustion. Resistance is now eyed back at 87.15 with a breach / weekly close above the 52-week moving average (currently ~93) needed to invalidate the current downtrend. Note how the 93-95 area became a strong resistance for the actual rally and indicates a new lower high on the weekly chart is a possibility.
The threat remains tilted to the downside into the fourth quarter but we're on the lookout for possible price inflection/downside exhaustion in the months ahead. From a trading standpoint, a breach / weekly close above this resistance level (93-95) would be needed to alleviate further downside pressure in oil prices. Note that losses sub 66 would be extremely damaging from a technical standpoint with such a scenario threatening a full-on breakdown towards the 2020 high-week close below 60. It's a BIG quarter for crude prices as we search for a low.
To learn more about technical analysis as a forecasting tool visit CAPEX Academy.
When talking about the commodity oil traded on the financial markets, we can distinguish two types. The most popular, and also the most traded, is the American oil called WTI. The other popular variant is Brent.
West Texas Intermediate (WTI)
Light sweet crude oil (WTI) is widely used in US refineries and is an important benchmark for oil prices. WTI is a light oil with a high API density and low sulfur content. This determines the density of the oil in relation to water. WTI oil is widely traded between oil companies and investors. Most trading is done through futures through CME Group. The Light Sweet Crude Oil (CL) future is one of the most traded futures worldwide.
Most of the oil of this type is stored in Cushing, an important hub for Oklahoma's oil industry. Here are large storage tanks connected to pipelines that transport the oil to all United States regions. WTI is an important feedstock for refineries in the Midwestern United States and on the coast of the Gulf of Mexico.
Brent oil is an important benchmark for the petroleum rate, especially in Europe, Africa, and the Middle East. Its name is derived from the Brent oil field in the North Sea. This Royal Dutch Shell oil field was once one of Britain's most productive oil fields, but most of the platforms there have since been decommissioned.
The correlation between these two futures' price development is high, and we have seen several times in recent years that Brent's price was more than $10 higher than usual. At the end of 2020, the difference was approximately $3. Such differences are caused, among other things, by supply and demand, including the costs of shipping or storing oil.
Why is the oil price so volatile?
Oil prices are extraordinarily volatile because supply and demand for oil are inelastic or unresponsive to price changes. And that comes from the fact that oil is a must-have commodity for which there are few scalable substitutes. And on the supply side, oil production requires years of upfront capital expenditure to begin the flow. But when the oil starts flowing, the operating costs are low.
So when you have a commodity for which demand is very inelastic and supply is inelastic, whenever you have an imbalance between supply and demand, you need huge price swings to effectuate just small changes in consumption and production. So basically oil's a very inelastic commodity on the supply and the demand sides in the short run. That's the main reason why crude oil prices are so volatile.
How do analysts see the market moving in the coming months and years? Below, we look at some of the latest projections.
Oil Price Prediction for 2022

,

2023

, 2025

:

Analysts' view

With new developments in the past weeks, what are analysts' views on the crude oil price forecast?
EIA
Oil price prediction 2022 and 2023
The EIA forecasted the Brent crude oil spot price to average $93 per barrel (b) in the fourth quarter of 2022 (4Q22) and $95/b in 2023. Potential petroleum supply disruptions and slower-than-expected crude oil production growth could lead to higher oil prices, while the possibility of slower-than-forecast economic growth may contribute to lower prices.
U.S. crude oil production in the latest EIA forecast averages 11.8 million barrels per day (b/d) in 2022 and 12.6 million b/d in 2023, which would set a record for the most U.S. crude oil production during a year. The current record is 12.3 million b/d, set in 2019.
EIA estimates that 99.4 million b/d of petroleum and liquid fuels were consumed globally in August 2022, up by 1.6 million b/d from August 2021. They forecast that global consumption will rise by an average of 2.1 million b/d for all of 2022 and by an average of 2.0 million b/d in 2023. As a result of high natural gas prices globally, EIA increased its forecast for oil consumption in 4Q22 and 1Q23 as electricity providers, particularly in Europe, may switch to oil-based generating fuels.
BofA Oil price prediction 2022 and 2023
In its Brent crude oil price forecast for 2022, BofA expected the price to average $104.48/bbl this year and $100/bbl in 2023.
Meanwhile, in its WTI crude oil price forecast, BofA projected the US oil to average $100/bbl 2022, before falling to $95/bbl in 2023.
"With oil supply being a key constraining factor and demand still sitting below pre-Covid levels, we believe that prices will have to keep a lid on the desired level of global fuel consumption," BofA wrote in their latest Oil analysis and price prediction note.
Fitch Solutions Oil price predictions 2022 and 2023
Fitch Solutions Country Risk & Industry Research has left its Brent crude forecast unchanged again, a new report from the company has revealed.
The company still forecast Brent price averaging $105 per barrel in 2022 and $100 per barrel in 2023, before dropping to $88 per barrel in 2024 and 2025, and $85 per barrel in 2026, the report highlighted. These Oil price predictions are identical to company forecasts made in August and July.
Brent was expected to trade at $60/b in 2024 and $53/b in 2025 and in the long term, but the company has said it will revise its 2024 and 2025 brent oil price forecast in the coming weeks.

Fitch Ratings forecasted WTI to drop to $57/b in 2024 and further to $50/b in 2025 and beyond, but the company has said it will revise its 2024 and 2025 WTI oil price forecast in the coming weeks.
Goldman Sachs
Oil forecast 2022 and 2023
Goldman Sachs cut its oil price forecast at the end of Q3 on the deteriorating global economic outlook—although it remained bullish on oil.
Goldman said it remained bullish, anticipating that oil prices would likely rise from the current levels given the state of the "critically tight" market. The group cited the strong dollar and weakening demand forecast, which will "remain powerful headwinds to prices into year-end. Yet, the structural bullish supply set-up -- due to the lack of investment, low spare capacity and inventories -- has only grown stronger, inevitably requiring much higher prices."
Goldman Sachs forecast Brent crude oil to average $100 per barrel over the last three months of the year—down from its previous bullish Oil forecast of $125 per barrel, which was already down from yet another forecast of $130 per barrel.
For next year, Goldman sees Brent averaging a likely $108 per barrel, also down from its previous prediction of $125 per barrel.
O
ther Oil Price Predictions for 2022 and 2023
Crude oil is expected to trade at 96.99 USD/BBL by the end of this quarter, according to Trading Economics global macro models and analysts' expectations. Looking forward, they estimate it to trade at 109.29 in 12 months' time.
Brent crude oil is expected to trade at 102.01 USD/BBL by the end of this quarter, according to Trading Economics global macro models and analysts' expectations. Looking forward, they estimate it to trade at 114.02 in 12 months' time.
Long Forecast expects Crude Oil to close 2022 at 93.62 USD, while Wallet Investor is more bullish and forecasts Crude Oil to close 2022 at 103.5.
Long Forecast expects Brent Oil to close 2023 at 137.57, while WTI to close 2023 at 125.53. Wallet Investors forecast Brent Oil to close 2023 at 122.25, while WTI to close at $102.
Oil Price Forecast 2023 – 2025
Fitch Solutions set Brent's oil price target of $83/b in 2023, up from $82 this year. It also expected WTI to trade higher at $87/b.

On the other hand, ANZ Research projected Brent and WTI to average $104.5/b and $103.4/b, respectively, in 2023. BofA also forecasted Brent and WTI to average $100/b and $95/b, respectively, in 2023.

Fitch Ratings estimated Brent will ease to $90/b in 2023, but this has been revised from its previous forecast of $80/bbl. Brent was expected to trade at $60/b in 2024 and $53/b in 2025, but the company has said it will revise its 2024 and 2025 brent oil price forecast in the coming weeks.

As for WTI, the company expected the US oil futures to trade at $76/bbl next year, compared to an estimate of $95 in 2022. Fitch Ratings forecasted WTI to drop to $57/b in 2024 and further to $50/b in 2025 and beyond., but the company has said it will revise its 2024 and 2025 WTI oil price forecast in the coming weeks.

EIA expects the average price to trade at $93/b in 2023. Long Forecast expects Brent Oil to close 2023 at 137.57, while WTI to close 2023 at 125.53. Wallet Investors forecast Brent Oil to close 2023 at 122.25, while WTI to close at $102.
Oil Price Forecast
for the next 5 years and beyond (
2025 – 2050
)
The EIA predicts that by 2025 Brent crude oil's nominal price will fall to $66/b. By 2030, world demand is seen driving Brent prices to $89/b. By 2040, prices are projected to be $132/b. By then, the cheap oil sources will have been exhausted, making it more expensive to extract oil. By 2050, oil prices could be $185/b.

WTI per barrel price is expected to fall to $64 per barrel by 2025, increasing to $86 by 2030, $128 by 2040, and $178 by 2050.

The EIA assumes that demand for petroleum flattens out as utilities rely more on natural gas and renewable energy. It also assumes the economy grows around 1.9% annually, while energy consumption decreases by 0.4% a year.

In July 2008, oil prices reached a record high of around $133/b. Then they dropped to about $40/b in December before rising to $123/b in April 2011. The Organization for Economic Cooperation and Development (OECD) previously forecasted that Brent might go as high as $270/b. The OECD based its prediction on skyrocketing demand from China and other emerging markets.
*When looking for oil-price predictions, it's important to remember that analysts' forecasts may be wrong. This is because their projections are based on a fundamental and technical study of WTI and Brent oil commodities' historical price movements. But past performance and forecast are not reliable indicators of future results.
It is essential to do your research and always remember your decision to trade depends on your attitude to risk, your expertise in the market, the spread of your investment portfolio, and how comfortable you feel about losing money. You should never invest money that you cannot afford to lose.
How Did the Price of Crude Oil Change Over Time?
Below is a chart showing the price for West Texas Intermediate (NYMEX) Crude Oil over the last 5 years. The shown prices are in U.S. dollars. On the chart, you can clearly see the monstrous drop that happened earlier this year, and how the price has been going up and stabilizing in the months thereafter.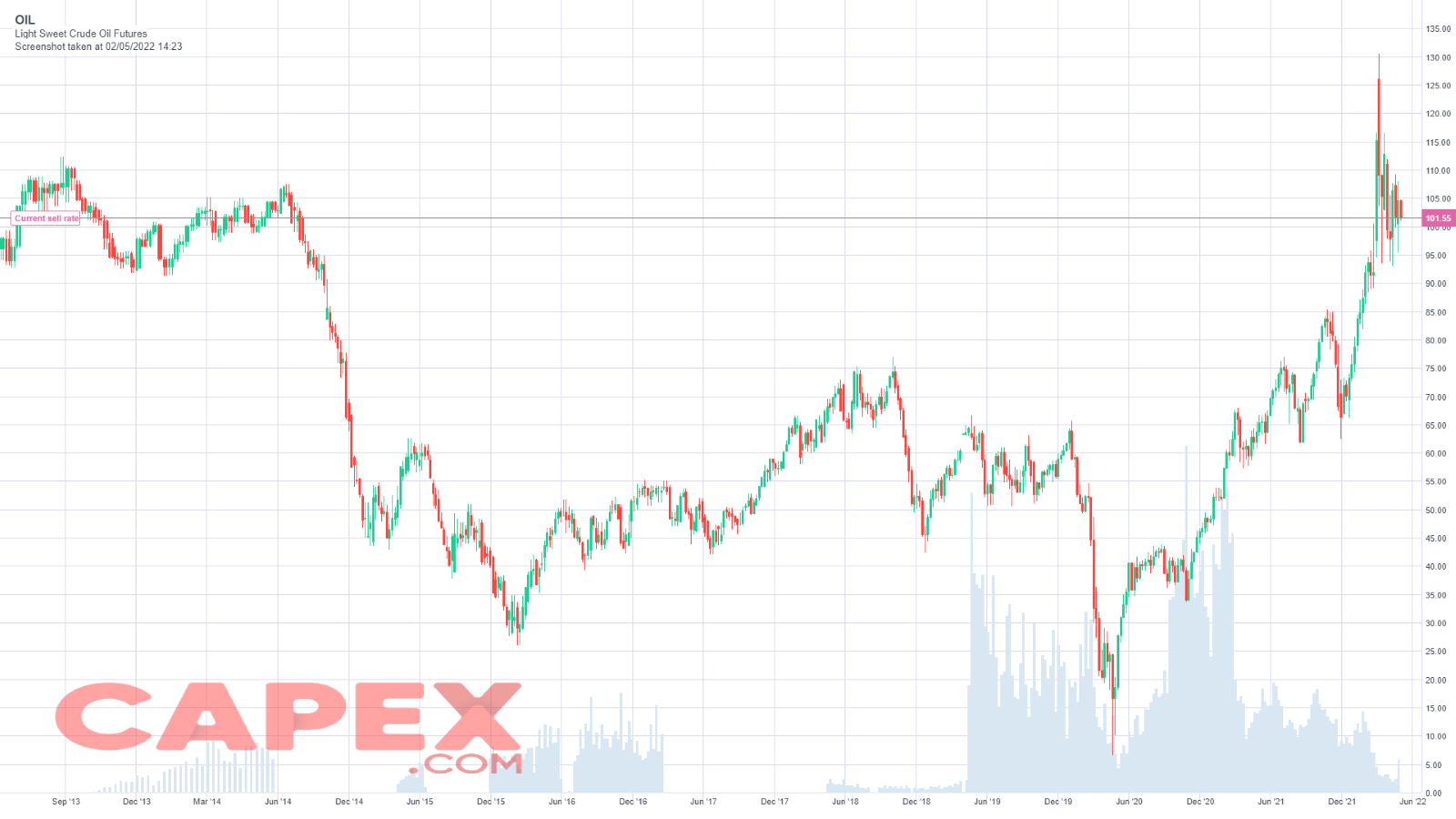 At the end of April 2020 (due to the Saudi and Russia conflict - more on that later), the oil price crashed, and the May WTI future even dipped below $0. The stock markets recovered strongly during the summer, and the oil price had also found its way up again. In August, the oil price rose well above $ 40 a barrel. With that price, the largest oil companies got some air also, but it is still far from enough for most to make a profit.
At the beginning of September, the oil price had suddenly fallen hard again. Simultaneously, with the mini-crash with the US stock markets, a crude oil barrel's worth dropped by about 15% to below $37 a barrel. This brought the oil price back below $40 a barrel for the first time since July. The drop is partly because Saudi Arabia had lowered its sales prices for October and the fear that the number of COVID-19 infections will increase rapidly in several countries.
The rebound in the number of infections could thwart the global economic recovery and decrease fuel demand. With several refineries lowering tariffs again, it seems they want to prevent oil stocks from rising back to record levels. The oil price was able to recover so strongly in recent months, thanks to the OPEC + countries' agreements regarding the reduction in production. However, due to the crisis, many countries are looking for additional income sources. Therefore, some countries are not fully complying with the agreements made. As a result, more oil flows into the market, which also has a depressing effect on oil prices.
March 9th, 2020: 30% Oil Price Crash
Monday, March 9th, can go into the history books as "Black Monday" for the oil price. Negotiations between Saudi Arabia and Russia had come to nothing.
The oil price was under pressure in previous months due to the spread of the coronavirus. The world economy was on the back burner, and as a result, the oil demand had declined considerably. By limiting oil production, the countries that are part of the oil cartel hoped to stabilize or increase the price themselves. Saudi Arabia, in particular, is strongly in favor of limiting oil production.
Saudi Arabia was now trying to force Russia in another way to join the OPEC plan. The Saudi's were going to increase production considerably and flood the market with oil. As a result, the price of a crude oil barrel had opened more than 30% lower, the lowest price since 2016. A low oil price is disastrous for most countries. Most OPEC countries are almost entirely dependent on oil revenues.
America's shale farmers may be hit hardest. The shale revolution seems to be built more and more on quicksand, as costs remain high and the new resources that are found have a much shorter lifespan. Even with an oil price of around $60 a barrel, many of these producers were already struggling. The unrest surrounding the coronavirus also makes it difficult to raise external capital. With Saudi Arabia pushing the oil price further down, the situation seems to be untenable for many producers. Players with a fragile balance and relatively high costs are unlikely to make it. What Saudi Arabia failed to achieve in 2016 now seemed to have a good chance of success.
April 21st, 2020: WTI Goes Below Zero
In April 2020, we saw a situation in the oil markets that has never occurred before. The West Texas Intermediate Crude Oil (WTI) futures contract for May fell more than 100%. The price fell during the day and took an unprecedented dive later in the evening to $ -37.63/barrel, meaning that oil producers would indeed have to pay buyers to collect the oil.
This is mainly because the storage capacity in Cushing, Oklahoma is full. And it is precisely there that this oil is delivered. Traders and large companies who were long yesterday but ran out of storage capacity or liquidity to purchase oil were forced to close futures before expiry.
Oil production increased rapidly, and OPEC was not happy about this. They saw the increase in supply in the Middle East as competition. OPEC, therefore, came up with the idea of ​​fully opening the oil taps. The production costs of shale oil were many times higher. The result was a drop in oil prices from about $110 a barrel to below $30 at the beginning of 2016. OPEC hoped to wipe out shale farmers in this way.
This strategy failed, and the OPEC countries themselves ultimately suffered considerable disadvantages from this strategy. For years they saw their income more than halved. In the meantime, the shale farmers have learned to work cheaper and more efficiently, and they are already profitable at a lower oil price. What's typical of this form of oil extraction is that production can be increased quickly.
Demand for oil will remain stable in the coming years. But it is also apparent that there is a lot of extra supply on the market now that American oil production is rapidly increasing. Shale oil, in particular, is extracted from the ground here. The shale revolution was set in motion in 2014 by the sharp rise in oil prices. This form of oil extraction was therefore profitable, despite the high production costs. Due to the attractive market, the oil companies sprang up like mushrooms.
OPEC is trying to limit production to keep the oil price at a reasonable level. Most countries benefit from a somewhat higher, but in any case, stable, oil price. According to OPEC, the oil industry must invest more than $11,000 billion over the next 20 years. If producers don't do that, there will be a shortage. In principle, shale farmers have already invested enough in recent years to absorb a large part of these shortages.
Furthermore, OPEC states that demand continues to increase despite the emergence of electric cars and the like. OPEC writes that the massive expansion of air travel creates a greater demand for oil than the emergence of alternative energy sources can diminish.
Since the low oil price in 2016, OPEC has been trying to support the low oil price. This is done by agreeing on production restrictions with all countries that are members of OPEC. The agreements do not always go smoothly, as Iran and Iraq do not always adhere to these agreements. On the other hand, the US and other countries continue to produce more and more oil, putting oil prices under pressure for a long time.
Factors That May Affect the Price of Crude Oil
We know that oil is an indispensable raw material in the world and that it is used both as raw material and fuel to make plastics, pharmaceuticals, and many other products. Hence, the demand for oil remains strong, and these industries' health will determine most of the world's oil demand. If demand from these industries increases while production stagnates, it will lead to higher prices for this commodity. Of course, and vice versa, if these industries are in a recession, their oil demand will be lower, so demand will decline. If production remains stable or increases in this case, it will logically lead to a drop in the price of a crude oil barrel.
As you will have understood, it is mainly by analyzing the difference between supply and demand that you will determine how the price or price of crude oil will evolve.
It should also be noted that this analysis is slightly more complex today than it used to be. Until a few years ago, it was pretty easy to understand how these prices would behave. At the time, the US was the largest consumer of crude oil. On the other hand, OPEC was the main supplier to the market in terms of production. But over time and the years, this situation has become more complex and slightly more confusing. One explanation for this phenomenon is that oil drilling technologies have improved greatly and resulted in better supply. Besides, we have seen the emergence of alternative solutions for this production. Finally, new players have also joined, including China, a major oil consumer in the world.
Below we have listed factors that change the supply or demand for oil and thus contribute to the evolution of this commodity's price and price.
Production data in barrels per day from OPEC countries. Too much production generally leads to lower oil prices per barrel and vice versa. US crude oil inventory data is published weekly, which also affects WTI.

Supply, which is published weekly on the economic calendar. Big supply also contributes to falling prices, while little supply leads to higher prices.
The international geopolitical situation. Conflicts affecting the oil-producing and exporting countries often influence the development of the price per barrel.
The value of the US dollar on the currency market

. As a barrel of oil is denominated in dollars, this currency will be weaker, and more oil purchases will be stimulated by holders of other currencies.
Final words
Make sure to create a free demo account on CAPEX.com! CAPEX.com is a useful platform for both novice and expert traders. You will be up to date on interesting updates about crude oil as an investment asset, and the user-friendly interface will come in handy if you decide to trade crude oil or any other commodity.

If you look at the price changes of oil for a while now, you will start to see a pattern, and as an investor, you can respond smartly to this.

If you want to invest in oil, it is a good investment to get in when the oil price is at a certain bottom. Of course, there is no guarantee that oil prices will ever rise as much as in the past. Oil is a limited resource and is probably the most precious material in the world. Investing in commodities is one way to improve your overall investment portfolio.
Will oil prices go back up?
Since the major drop in March of 2020, the oil price has been going up and stabilizing in the months thereafter.
Where are oil prices going?
Fluctuations notwithstanding, many experts forecast that crude oil prices will steadily grow in the long term. This mostly has to do with oil becoming more and more scarce a commodity, and it's becoming more difficult to extract the crude oil.
The price of crude oil fluctuates on a daily basis. Its price can see a major drop due to various factors, including too much production, lack of storage, geopolitical conflicts, the value of the US dollar, etc.
What is the prediction for oil prices?
Most oil price predictions assume a positive outlook in the long run. As the global economy slowly returns to (albeit new) normal, oil prices should also be stable, if not super-high.
Will the oil price recover?
Since the major drop in March of 2020, the oil price has been going up and stabilizing in the months thereafter.
Why has the oil price dropped in 2020?
A global economic conflict resulted in a total drop in oil prices in March of 2020. Saudi Arabia initiated a price war with Russia, "helping" a 65% quarterly fall in the oil price. In the first few weeks of March, US oil prices fell by 34%, while crude oil fell by 26%, and Brent oil fell by 24%.
What is the current oil price?
This information/research prepared by Miguel Ruiz ("the research analyst") does not take into account the specific investment objectives, financial situation or particular needs of any particular person. The research analyst primarily responsible for the content of this research report, in part or in whole, certifies that the views about the companies and their securities expressed in this report accurately reflect his/her personal views and consequently any person acting on it does so entirely at their own risk.

The research provided does not constitute the views of JME Financial Services (Pty)Ltd nor is it an invitation to invest with JME Financial Services (Pty)Ltd. The research analyst also certifies that no part of his/her compensation was, is, or will be, directly, or indirectly, related to specific recommendations or views expressed in this report.

As of the date the report is published, the research analyst and his/her spouse and/or relatives who are financially dependent on the research analyst, do not hold interests in the securities recommended in this report ("interest" includes direct or indirect ownership of securities).

The research analyst in not employed by JME Financial Services (Pty)Ltd. You are encouraged to seek advice from an independent financial adviser regarding the suitability of the investment, under a separate engagement, as you deem fit that conforms to your specific investment objectives, financial situation or particular financial needs before making a commitment to invest.

The laws of the Republic of South Africa shall govern any claim relating to or arising from the contents of the information/ research provided.

JME Financial Services (Pty) Ltd trading as ZA.CAPEX.COM acts as intermediary between the investor and Magnasale Trading Ltd, the counterparty to the contract for difference purchased by the Investor via ZA.CAPEX.COM, authorised & regulated by the Cyprus Securities and Exchange Commission with license number 264/15. Magnasale Trading Ltd is the principal to the CFD purchased by investors