In this electoral campaign, 435 seats in the House of Representatives and 35 seats in the Senate must be decided, though experts warn the ultimate outcomes of these ballots may not be known
The markets had a roller coaster day, influenced by differing expectations about the outcome of the US midterm elections.
In this electoral contest, 435 seats in the House of Representatives and 35 seats in the Senate must be chosen, though experts say it could be days or even weeks before the final results of these votes are known.
According to nonpartisan forecasts and opinion polls, the Republicans have a good chance of winning the House majority and a close race for control of the Senate.
These favorable forecasts for the Republican Party have boosted stock markets because this party is seen as more favorable in terms of their ability to stall legislation aimed at increasing tax pressure.
On the other hand, some analysts say that a surprise victory by the Democrats could also raise concerns about regulation of the technology sector and budget spending that could increase inflation.
In short, a Republican victory would be welcomed by the markets, at least initially, and variations in published polls and forecasts are influencing the performance of markets that are experiencing continued ups and downs.
Investors are also awaiting a key inflation reading on Thursday, which is expected to show a decline in consumer prices and provide more clues as to whether the US Federal Reserve could ease its aggressive interest rate hikes campaign.
Traders are divided on whether the Fed will raise rates by 50 or 75 basis points at the central bank meeting in December.
During yesterday's session, stock indices fell precipitously after the CFO of FedEx, the courier company that serves as an economic benchmark, spoke of bleak business prospects, reinforcing the negative economic sentiment that has persisted in the markets for months.
However, as has been the case in the past, bad economic news is well received by the market because it means an early end to interest rate hikes. Treasury bond yields fell sharply yesterday, with the 10-year bond yielding 4.12%. The Treasury bond auctions yesterday were also well received by institutional investors, indicating that investors do not expect excessive interest rate hikes.
Finally, after abrupt movements in the markets caused by all this news, the stock indices ended with gains, adding three consecutive days in positive.
The dollar weakened on falling market interest rates, and EUR/USD rose around 60 pips to the 100-day exponential moving average that acts as the pivot point.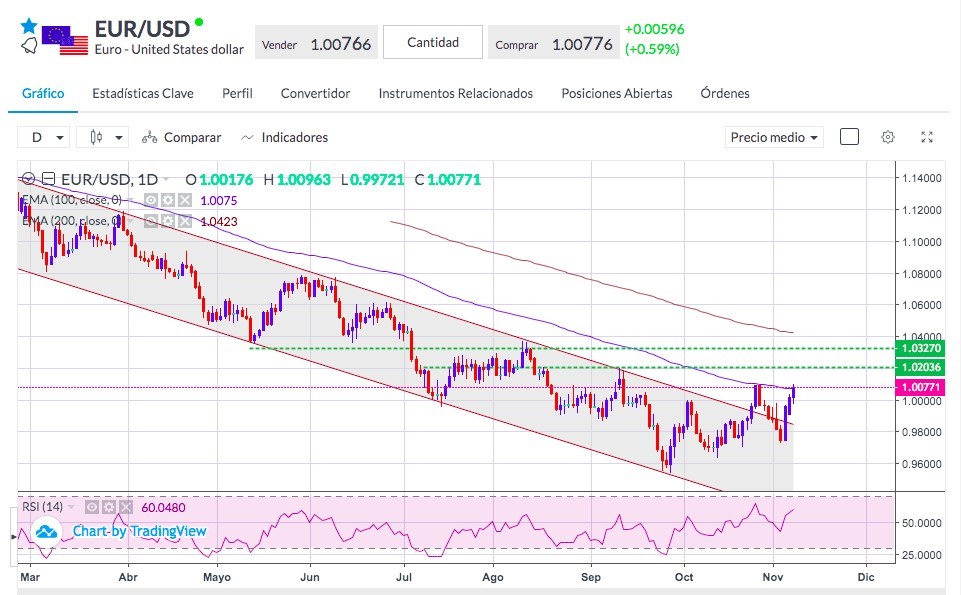 Sources: Bloomberg, Reuters
This information/research prepared by Miguel Ruiz ("the research analyst") does not take into account the specific investment objectives, financial situation or particular needs of any particular person. The research analyst primarily responsible for the content of this research report, in part or in whole, certifies that the views about the companies and their securities expressed in this report accurately reflect his/her personal views and consequently any person acting on it does so entirely at their own risk.

The research provided does not constitute the views of JME Financial Services (Pty)Ltd nor is it an invitation to invest with JME Financial Services (Pty)Ltd. The research analyst also certifies that no part of his/her compensation was, is, or will be, directly, or indirectly, related to specific recommendations or views expressed in this report.

As of the date the report is published, the research analyst and his/her spouse and/or relatives who are financially dependent on the research analyst, do not hold interests in the securities recommended in this report ("interest" includes direct or indirect ownership of securities).

The research analyst in not employed by JME Financial Services (Pty)Ltd. You are encouraged to seek advice from an independent financial adviser regarding the suitability of the investment, under a separate engagement, as you deem fit that conforms to your specific investment objectives, financial situation or particular financial needs before making a commitment to invest.

The laws of the Republic of South Africa shall govern any claim relating to or arising from the contents of the information/ research provided.

JME Financial Services (Pty) Ltd trading as ZA.CAPEX.COM acts as intermediary between the investor and Magnasale Trading Ltd, the counterparty to the contract for difference purchased by the Investor via ZA.CAPEX.COM, authorised & regulated by the Cyprus Securities and Exchange Commission with license number 264/15. Magnasale Trading Ltd is the principal to the CFD purchased by investors