Banks and forecast agencies have downgraded their gold price predictions, expecting modest weakness for the remainder of 2022, before prices will recover in 2023.
Aggressive monetary policy tightening by central banks, a rise in US real yields, and a stronger dollar have weighed heavily on the gold market. And with further tightening expected there is room for more downside in the near term. Although Gold is forecasted to continue in the bear territory in the short term, the medium-term outlook is more constructive.
Gold
P
rice
Prediction
– Key Notes
Gold price prediction

toda

y

: the

g

old

price

is

expected

to

decrease in the coming days

below the $1

.

600 level

Gold price prediction

2022

:

ING forecasted

gold

pri

ce to end the year at $1

.

650, while ABN Amro

downgraded their

gold

price forecast

for the end of 2022 at $1

.

700.

Gold price prediction

2023

:

most of the updated

Gold

forecast

s for the end of 2023 see the price at $1.900before

hitting

all-

time

records

l

ater

on

.
With CAPEX.com you can trade Gold through CFDs if you want to speculate on price movements or invest in Gold mining stocks or Gold ETFs.

Gold
Analy
sis &
Price Forecast
– Overview
The gold market could face more losses as the Federal Reserve is still amid its historic rate hikes. But once signs of a potential Fed easing emerge, the analysts forecast gold price will return to its rally mode. And that is expected as soon as next year, according to the latest gold price predictions.
Gold is now down more than 10% year-to-date — a disappointing return for those using gold as an inflation hedge.
The 10-year real yields (nominal yields minus inflation expectations) have risen by more than 150 basis points this year while the US dollar is more than 10% higher than at the start of this year. As a result, investors have partly liquidated their ETF positions.
Given the amount of uncertainty now coupled with high inflation, many in the market may have forecasted gold prices should be well supported. However, this has not been the case. Spot gold reached its lowest levels in more than two years and has fallen more than 20% from its recent peak in March, pushing it into a bear market.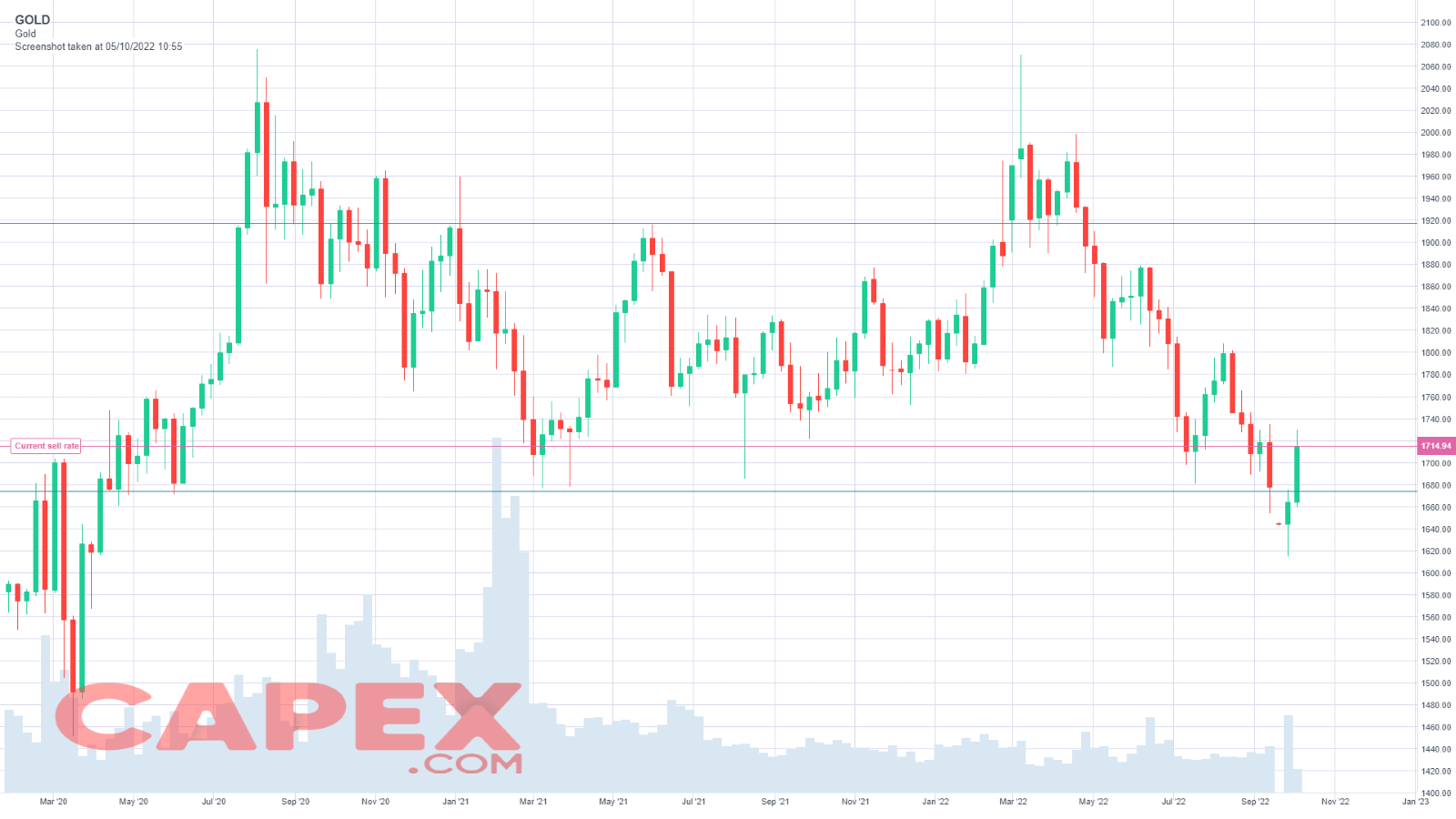 U.S. dollar strength has hit sentiment across the commodities complex and gold has not been spared in this move.
The greenback has strengthened on the back of a very hawkish Fed fighting sticky inflation. After a third consecutive 75-basis-point hike in September, the U.S. central bank is expected to introduce another 75bps increase in November and an additional 50bps hike in December. This would leave the target range at 4.25-4.5%.
Real yields have also been climbing and weighing on gold since higher yields increase the opportunity cost of holding gold. 10-year real U.S. yields have reached their highest levels in more than a decade and are firmly back in positive territory. Given the strong negative correlation between gold prices and real yields, it is not surprising to see that gold has struggled in this rising yield environment.
Despite these signs being all negative for gold which results in downgraded gold price predictions for 2022, the gold price forecast for 2023 is more constructive and the first signs of easing from the Fed are expected to lift gold prices. The gold price predictions for 2023 are hinting at a steady uptrend that should test the previous peaks.
With these in mind let's detail the recent technical developments, fundamental drivers, and gold price predictions from commodities analysts.
Gold price forecast today - Will the gold price decrease in the coming days

after

this

short

rebound

?
The gold price dipped below the $1,700 mark for the first time in a one-and-a-half-year on July 21, amid growing recession fears that caused losses across risk assets.
However, gold prices rebounded from a 2-1/2-year low on the close of Q3 as a pause in the U.S. dollar's rally helped restore greenback-priced bullion's allure, although risks from looming rate hikes persisted.
Spot gold is trading above the $1.700 level at the start of Q4 2022, a little bit of a recovery after some of the extreme weakness seen over recent days.
However, there's really any fundamental change taking place in the gold market as we'll see in the next section, and the short-term gold price forecast hints at new lows below the $1.600 level.
Going ahead, the outlook remains negative for the near-term the gold price chart above shows. The current trend is bearish as indicated by a descending channel characterized by a series of lower highs and lower lows.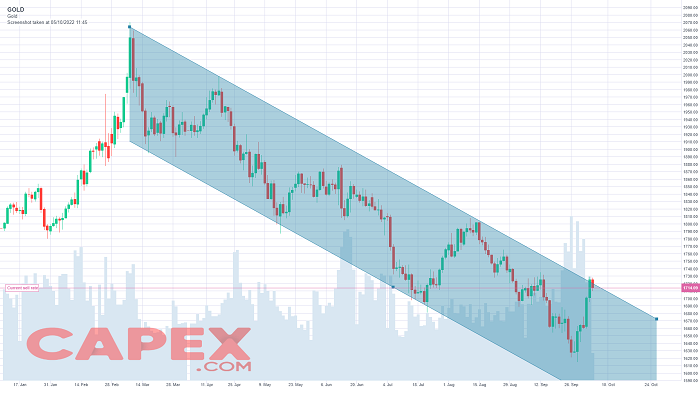 Traders will go short during a descending channel, usually after completing short-term counter-trends to key resistance levels.
However, once the channel is completed, traders will seek long opportunities to profit from any increases in price.
If the Gold price breaks above $1.800, the asset's price could be about to experience an overall upward trend. If the $1800 resistance holds, the gold price could decrease in the future to as low as $1,450/oz, the low of March 2020.
Gold Analysis –

The Main Drivers for 2022 and beyond
Here are the main market drivers for Gold prices in the third quarter and beginning of 2023.
USD strength and rising yields hit investor demand
Higher yields increase the opportunity cost of holding gold, which appears to be turning investors off the yellow metal. And that is visible through the exchange-traded fund (ETF) holdings in gold, which have declined by almost 9% since April.
Data from the World Gold Council shows that over August, ETF outflows amounted to 51 tonnes, which is the fourth consecutive month of net outflows. And it is clear that the market is set to see further outflows in September.
Also, positioning in COMEX shows speculators holding a net short position, with the net short at 32,966 lots as of the end of Q3 2022. This is the largest short position since late 2018. From a pure positioning point of view, speculators still have room to increase this short. Back in late 2018, the net short in COMEX gold was in excess of 100k lots
Central banks keep adding to gold reserves
Central banks have slowly increased their gold reserves so far this year. Banks seem to be gravitating to gold as a store of value in these times of uncertainty (both economic and geopolitical) and rising inflation. Additionally, it's possible that several central banks were concerned about the freezing of Russia's foreign reserves after its invasion of Ukraine. Some central banks may have been unhappy as a result of this decision and are now looking to diversify into gold.
According to the most recent data from the World Gold Council, central bank holdings grew by about 180 tonnes in 2Q22, even if they are still down 14% from the same period last year. While central bank purchases in July totaled 37 tonnes for the month. Given that the existing situation is probably not going to change, central banks are expected to continue to add to their gold holdings in the months ahead.
Chinese gold demand picks up
The Covid-related lockdowns earlier in the year, especially during 2Q22, when severe restrictions were in effect throughout Shanghai and Beijing, had a negative impact on Chinese demand for gold. Chinese consumer demand decreased 23% YoY over 1H22, according to WGC data. The difference between local Chinese gold prices and those on the international market, however, has widened more lately, indicating a rise in domestic demand. This is supported by import figures, which show a 134% YoY increase in non-monetary gold imports in August, which was more than a four-year high.
India, a different significant gold consumer, is anticipated to experience increased gold demand as we approach Diwali in late October.
Although there may be increased consumer demand, it is obvious that investment flows are what determines price movement. Additionally, the short-term forecast for this is less encouraging.
Eventual signs of Fed easing will lift prices
While we believe that short-term monetary tightening will continue to put pressure on gold prices, we also need to pay attention to the Fed's signals. Gold prices should start to receive some support if there are any signs that the Fed may slow its aggressive pace of rate hikes. And for this to occur, there would probably need to be some obvious indications of a large drop in inflation.
In their updated gold price prediction 2022, ING and ABN AMRO anticipate a sharp decline in inflation over 2023, which will pave the way for the Fed to begin lowering interest rates in the second half of 2023. This is different from the Fed's dot plot, which suggests that rates will rise as 2023 progresses. However, they'we assume the situation is alleviating and forecast gold prices to move higher over the course of 2023.
The main concern with this viewpoint which influences the latest gold price predictions is the possibility that inflation could be considerably stickier than anticipated, necessitating a longer tightening cycle from the US Fed.
The inverted yield curve will also fuel concerns about an impending recession. And because of these worries, some investors would look for safe-haven investments like gold. Rising rates, however, will probably partially offset this in the immediate run.
Gold's behavior will depend on which factors tip the scale
World Gold Council believes that gold will face two key headwinds during the second half of 2022:
higher nominal interest rates

a potentially stronger dollar.
However, the negative effect from these two drivers may be offset by other, more supportive factors, including:
high, persistent inflation with gold playing catch-up to other commodities

market volatility linked to shifts in monetary policy and geopolitics

the need for effective hedges that overcome potentially higher correlations between equities and bonds.
In this context, gold's both strategic and tactical role will likely remain relevant to investors, particularly while uncertainty stays elevated.
How do analysts see the price of Gold moving in the coming months? Below, we look at some of the latest gold price predictions and gold price forecasts for 2022, 2023, and beyond.
Gold Price Prediction for 2022: What Do Experts Predict?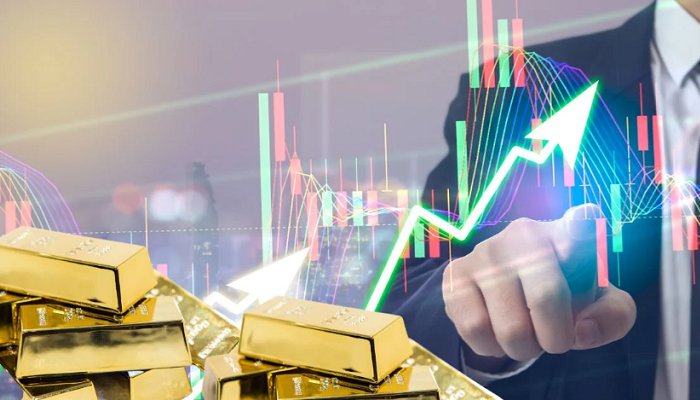 Analysts at Arabberg.com also wrote in their mid-year gold investing outlook:
"Gold outperformed other precious metals in three of the last four stock bear markets. Real interest rates will likely be negative until the end of the year, and quite possibly longer, providing a good investment environment for gold. The gold price has been trading in a broad price range for two years and will eventually break out. It is very likely to see gold testing the support level of 1630 during the third quarter of 2022. On the upside, the price will need to climb above $1,800/oz to give an initial sign that the rally has resumed."
Goldman Sachs
During Q1 investment bank Goldman Sachs raised its 2022 gold target to $2,500 per ounce, citing a "perfect storm" of increased investor and central bank demand amid economic and geopolitical uncertainty, as well as resilient Asian retail demand.
However, the bank revised its gold price prediction two times during the current year. The firm now forecasts gold to trade at around $1,850, down from $2,100.
"We underestimated the market's willingness to give the Fed credit in its ability to drive inflation back to its target," explained the big bank in its second revision on the gold price prediction 2022.
Credit Suisse joined JP Morgan and slashed its gold price prediction 2022, forecasting the haven metal will trade at an average of $1,725 a troy ounce instead of $1,850 during the last quarter of the year. The firm estimates rising real rates will continue to hurt gold's performance.
Scotiabank
Canada's Scotiabank forecast that the gold price could average $1,850 per t oz in 2022 and drop to $1,700 in 2023.
ANZ
In their latest note, ANZ's analysts were bearish on their long-term gold price outlook. They predicted that the price could slide to $1,750 by the end of June and $1,600 per ounce by the end of December, averaging $1,725 for the year. They forecast that the price could decline further to $1,400 by the end of September 2023 and average $1,458 next year. 
ABN Amro
Analysts at Dutch bank ABN Amro were more bearish in their gold price prediction for 2022, expecting the price to average $1,500 and then fall further to $1,300 in 2023.
However, the bank downgraded its gold price prediction 2022, while in the same time upgrading its gold price forecast 2023. Here are some key notes from their last Gold analysis that explained the revision.
ABN Amro expects modestly lower gold prices for the remainder of this year, as Fed should take the upper bound of the fed funds rate to 4% by early 2023, with the risk that some of that tightening will be frontloaded. This is slightly above market consensus. This should weigh on gold prices and justifies the lower gold price forecast 2022.
The dutch bank also expects the US dollar to remain relatively strong. However, they forecast gold prices to decline modestly from the current levels. While they forecast the US dollar to remain relatively strong, another strong rally from these already high levels is not excluded.
Secondly, the bank thinks that US real yields are close to a peak or have already peaked. As a result, it is likely that this driver will not add substantial pressure on gold prices from current levels.
Third, they see a crucial support area layered at USD 1.680-1700 per ounce. The analysts expect these levels to be tested again and prices could move below these, albeit only temporarily.
Their new gold price forecast for the end of 2022 is USD 1.700 per ounce. ABN Amro's previous gold price prediction was 2.000.
UBS recognizes the resilience of gold, which is largely due to an elevated demand for portfolio hedges, as well as the Fed's insufficient response toward inflation. However, regardless of gold's resilience, UBS does still expect gold to fall to $1,650-1,700/oz from July to December 2022, as a result of  the ease of threats of the omicron variant, and reduced inflation.
However, they have adjusted their gold forecasts over the next 12 months. UBS now forecasts gold at USD 1,600/oz at the end of December (from USD 1,700/oz, initially).
According to Bank of America experts, growing inflation, continuing pandemic risks, and geopolitical conflicts contribute to investments in gold. BofA analysts expect the average gold price to be at $1,925/oz throughout the year.   
However, in its gold price forecast for 2022 on 12 September, Bank of America (BofA) Global Research revised its gold price prediction to $1,938/ounce from $1,957/ounce in May.
According to Wallet Investor, the closing price for 2022 will be $1,665. The gold forecast for the coming months of the year was downgraded also.
The Economy Forecast Agency is also bearish. They forecast the 2022 Gold closing price at $1,667.
Gold price predictions for 2022 from different experts vary and depend on how the market will respond to inflation, the central bank's policy, and geopolitical tensions. 
High volatility has been influencing the stock markets since the very beginning of 2022. At the same time, gold's price growth has been quite steady, and the uptrend is continuing. Inflation is the core factor that will impact the price of gold in the near future. It is at the highest rate in the US in the last forty years. Gold's status as a top hedging instrument against diluting the purchasing power of fiat currencies is likely to push the prices further, reaching more than $2,000 per ounce. 
The factors that will influence the price of gold in the remaining of 2022 and support the positive mid-term gold price predictions include:
Potential increase in inflationary expectations and concerns on

diluting purchasing power of fiat currencies

.

A potential increase in investment demand and a gradual recovery in consumer demand in China and India may support the precious metal rate at a high level.
Government bonds (government debt) may not play the role of defensive assets in the face of inflation and negative interest rates since they will cease to generate income.
Tense geopolitical situations may lead to gold becoming a hedging instrument on a larger scale. 
At the same time, the opportunity cost of owning gold may decrease. This may increase the popularity of the precious metal in the eyes of investors in 2022.

All Western countries are facing the end of unprecedented growth in the money supply. From the beginning of February to the end of October 2021, the aggregate volume of money supply in the United States increased from $15.4 billion to $18.8 billion, an increase of 22%. In the United States, the Eurozone, the United Kingdom, and Japan, the figure rose 15.7% from February to September.

On the other hand, volatile risk-on assets may have a negative impact on gold's price. In this scenario, the bears will take the rates to the low levels of September 2021. 
Gold Price Forecast 2023
Analysts expect that production will expand through 2023, given that prices are well above production costs. Uncertainty over the end of the economic recession and higher rates of inflation may push gold prices higher.
UBS revised not just the 2022 gold forecast, but also their end-June 2023 target is USD 1,650/oz now (from USD 1,700/ oz).
Wallet Investor
The opening price on January 1 is forecasted to be $1,665. The price will go up all the way till September when it will retest the 1.797 level. A sideways movement is expected and the closing price of 2023 for Gold is forecasted to be $1,794.
Long Forecast
January 2023 will begin with an opening price of $1,677. Until the end of the year, gold will face a gradual downtrend. At the end of June, the price of gold is forecasted to be $1,490. After that, there will be no sharp ups or downs - the closing price in December is predicted to be around $1,608.
Coin Price Forecast
2023 will meet us with $1,761, according to the Coin Price Forecast. By the middle of 2023, the price will be $1,844, and the growth will maintain till the end of the year when the closing price will be $1,930.
Gold Price Forecast 2024
Overall, the price of gold in 2024 will go up, and no significant falls are expected. However, investors should keep in mind that this growth will be at a slow pace. There is good news for long-term investors - the volatility in 2024 is said to be low. Let's dive into the details.
Wallet Investor
The opening price in January will be $1,800. The whole year will show stable growth. At the end of June, the Gold price prediction is $1,875. The last day of 2023 will leave us with gold trading at $1,928.
Long Forecast
The opening price in 2024 will be $1,559. No sharp falls are expected. By the beginning of July, the opening price will be $1,492. The gold price forecast 2024 is 1409, and the agency is forecasting gold price will follow a downtrend during the year.
Coin Price Forecast
$1,930 will be the price at the beginning of 2024. By the middle of the year, it will manage to go up to $1,950. The growth will continue to make all investors happy, and on the 31st of December will congratulate the world with a closing price of $2,070.
Gold
price prediction
for the next 5 years
After a two-year range market, the price of gold may resume the overall uptrend. Its recent awakening occurred right after the gold price dipped below the $1,700 mark for the first time in a one-and-a-half-year on July 21 and continued to rally for 2 straight weeks.
What is the gold price prediction for the next 5 years? See below the forecaster's projections for gold prices in the 5 years approximately.
Though it is hard to say for sure for such a long period of time, experts from different resources concur that gold will continue rising. However, they have opposite opinions about the speed of this growth.
Gold Price Forecast for the next 5 years from
Wallet Investor
Wallet Investor offers a gold price forecast for the next 5 years. The opening Gold price in 2025 is forecasted to be $1,930. The closing price in June 2025 will be $2,000, and it will continue going up - at the end of December, the closing price will be $2,050. The first half of 2026 is also nice and pleasant for gold investors. The following periods will also demonstrate the uptrend, and the year will close with $2,187. Moderate growth will continue in January 2027. The gold price prediction for the next 5 years is $2,306.
Gold Price Prediction
for the next 5 years from
Long Forecast
The Economy Forecast Agency provides a gold price prediction only till the end of November 2026. The beginning of 2025 will continue the sideways movement. The opening price in January will be $1,826. An uptrend will happen in March as the price rally to over $2,000. Then, the price will grow modestly till November, at $2,189.
Gold Price Forecast 2025-2030 from
Coin Price Forecast
Coin price forecast offers a gold price forecast for the next 5 years. 2025 will start with a price of $1,944, and the uptrend will continue: mid-year will give us $2,081. Then, the price will start a strong uptrend and the figures will go up till the middle of 2028; at that point, the price will reach $2,551. The growth will continue at a faster pace since then. By the end of 2030, the price will be $3,175.
Gold price forecast in the only agency providing a gold price forecast for the next 10+ years. According to their algorithms, the gold price is forecasted to rich $3,935 by the end of 2034.

*It is worth keeping in mind that both analysts and online forecasting sites can and do get their predictions wrong. Keep in mind that past performance and forecasts are not reliable indicators of future returns. When considering gold price predictions for 2022 and beyond, it's important to keep in mind that high market volatility and the macroeconomic environment make it difficult to produce accurate long-term gold analysis and estimates. As such, analysts and forecasters can get their gold forecast wrong.

*It is worth keeping in mind that both analysts and online forecasting sites can and do get their predictions wrong. Keep in mind that past performance and forecasts are not reliable indicators of future returns.
It is essential to do your research and always remember your decision to trade depends on your attitude to risk, your expertise in the market, the spread of your investment portfolio, and how comfortable you feel about losing money. You should never invest money that you cannot afford to lose.  
What moves the price of gold
in the future?
Unlike almost any other asset, gold is typically neither a safety nor a risk asset, though the popular financial media have often called it both over the years (depending on how gold has been performing in recent months). Instead, it's a currency hedge for which demand rises when there are concerns about inflation diluting the purchasing power of fiat currencies (particularly those most widely held, like the USD and EUR). In other words:
In times of optimism (aka

risk appetite

), gold can either appreciate if markets believe growth will lead to inflation, or it can fall if the desire for higher yields overrides inflation concerns and investors move into more classic risk assets which they believe will provide better returns.

In times of pessimism (aka

risk aversion

) gold can either rise if markets believe that stalling growth will lead to rising deficits and/or money printing that could cause inflation, or it can also fall on fears of deflation or a market crash that feeds demand for cash. In times of panic, traders seek cash either to cover margin calls or other obligations or to be ready to go bargain hunting.



If pessimism turns to panic, then gold could either:
– rise if markets are more concerned about the USD or EUR losing their purchasing power than about near-term liquidity needs, as was the case at times from 2009 through 2011.
– fall if markets are more concerned about liquidity than the loss of purchasing power, as was the case in late 2011.
When markets are not concerned about fading purchasing power, the major currencies tend to gain against gold. That can happen due to:
Low inflation expectations, as we saw starting in late 2011. Concerns about the global economy kept inflation fears low, and so gold began a multi-month downtrend.

Panic periods are when markets fear a financial crisis, and liquidity becomes the top priority. We saw gold sell-off during times of peak anxiety about the US or EU. During these periods, investors tend to sell gold to raise cash.
How Has the Price of Gold Changed Over Time?
Below is a Gold chart that shows how the price of gold changed over the past ten years. In order to make our predictions and forecasts as accurate as possible, it's important to look back at such historical data.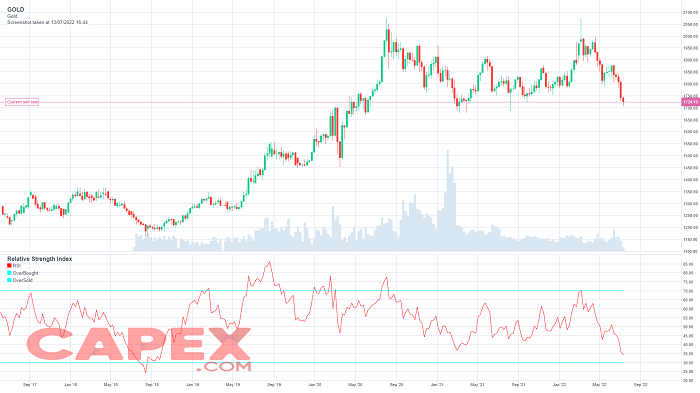 One of the biggest drivers of gold is currency values. Because gold is denominated in dollars, USD can have a significant impact on the price of gold. A weaker dollar makes gold relatively less expensive for foreign buyers and may lift prices. On the other hand, a stronger dollar makes gold relatively more expensive for foreign buyers, thus possibly lowering prices.
The price at the beginning of 2019 was $1,413.75. Though it fell insignificantly in April to $1,353.26, it continued going up till August and became $1,601.35. However, in November, the price lowered to $1,524.80. The reason for this was the falling gold demand in India. Actually, it fell to its lowest level in three years. The World Gold Council (WGC) explained that this was due to  domestic prices climbing to a record against a backdrop of falling earnings in rural areas.
The price was able to recover and rose up to $2,063.56 in August 2020. This peak hasn't been reached again yet. The coronavirus pandemic and the unprecedented flow of money supply by government stimulus triggered sharp buying in the bullion metal in both domestic and global markets in 2020. 
The price didn't manage to maintain this high and fell to $1,840.38 in November 2020. Pfizer was the main reason. The US-based pharmaceutical corporation announced the Covid-19 vaccine news. They made a surprising announcement regarding the status of their coronavirus vaccine trial.
The price managed to recover a little bit, but that didn't save it from another fall in March 2021 - it fell to $1,742.68 as the dollar strengthened after the jump in US private-sector jobs. "Gold looked as if it was topping out," Ross Norman, Chief Executive Officer at Metals Daily, said. "Some profit-taking exacerbated the decline, and gold will rebuild from here." He was right - in May 2021, the price became $1,904.76. Little did he know that the price would again go down, reaching $1,771.60 because of problems with the coronavirus in India.
There were no sharp ups or downs during summer. The first month of Fall 2021 ended with a price decline to $1,726.11 per ounce. The next seven weeks showed a strong recovery – up to $1,866.96. This happened due to the investor's rush into safe-haven assets. A stronger dollar and the Fed policy led to the following sharp decline. However, the situation changed in December when the bulls took the trend. Such factors as the pandemic, continuing inflation, and the geopolitical crisis pushed the price to $1,930+ per ounce.
The gold price initially rallied as the Ukraine war unfolded and investors sought high-quality, liquid hedges amidst increased geopolitical uncertainty. But gold gave back some of those early gains as investors shifted their focus to monetary policy and higher bond yields.
Gold finished H1 0.6% higher, closing at US$1,817/oz.
Conclusion: Is Gold a Good Investment?
Not only is gold known for being a portfolio diversifier, but with inflation fears on the rise, investors tend to buy gold due to concerns about inflation diluting the purchasing power of fiat currencies.
"During periods of systemic risk, both gold and the dollar tend to be used as safe havens and may move in a similar direction," says Juan Carlos Artigas, Head of Research, World Gold Council.
The WGC maintain a long-term positive view on gold  in 2022-2030.
As new initiatives of the world's central banks and governments to support markets and economies were successfully implemented in 2021, the gold price may have shown a decline. However, new waves of coronavirus, skyrocketing inflation, political tensions, and conflict destabilize the situation, so we have a reason to expect experts' forecasts to come true - meaning gold price may rise up to $2,100 per troy ounce in 2022.
Make sure to create a free demo account on CAPEX.com! You will be up to date on interesting updates about Gold as an investment asset, and the user-friendly interface will come in handy if you decide to start trading Gold or any other asset. 
Gold Price Forecast FAQ
When will the gold price rise?
The gold price moves in response to macroeconomic and geopolitical factors, as it gains value in times of volatility in the financial markets and global turbulence. Many analytical agencies see gold prices to be at the beginning of a long uptrend.

The global situation is expected to become even tenser, and it could be another potential tailwind for gold — which is considered a safe investment asset in times of uncertainty.
Will gold rate decrease in the coming days?
Although a weaker stock market is providing the commodity with some positive momentum, the rising US Treasury yields is driving the gold rate down. The gold rate could decrease in the coming days up to $1600, the 50% retracement level.
At the moment of writing, experts have a positive outlook on the price of gold for the near future and do not expect the precious metal to go low.
What will gold be worth in 5 years?
At the beginning of January 2027, WGC predicts a price of more than $3,500. The maximum price forecast for 2027 is $3,794, and the minimum price forecast is $3,529.
What will gold be worth in 10 years?
Long-term price forecasts for any investment asset are very approximate and may change due to various factors. Analysts cannot make a reliable gold price forecast for 10 years in the future. However, at the end of 2030, the price may be $4,503.
Why is the gold price in UAE going up?
The pandemic, increasing global tensions, and overall economic slowdowns have led to a constant rise in the gold rate in the UAE and around the world in the first part of 2022.
What is the Gold price prediction in India?
The Gold rate could decrease in the coming days up to 130,000 IDR, or 50% Fibonacci retracement. Rising US Treasury yields have a negative impact on Gold prices that could drop to a 2-year low in the coming days.
What is the expected Gold price in 2025 in India?
With most of the Gold rate predictions between $2000 and $2500, the expected Gold price in 2025 in India can be between 160,000 and 200,000 IDR.
What is the expected Gold price prediction for the next 5 years?
The gold price prediction for the next 5 years is $2,306, according to the forecasting agency Wallet Investor.
This information/research prepared by Miguel Ruiz ("the research analyst") does not take into account the specific investment objectives, financial situation or particular needs of any particular person. The research analyst primarily responsible for the content of this research report, in part or in whole, certifies that the views about the companies and their securities expressed in this report accurately reflect his/her personal views and consequently any person acting on it does so entirely at their own risk.

The research provided does not constitute the views of JME Financial Services (Pty)Ltd nor is it an invitation to invest with JME Financial Services (Pty)Ltd. The research analyst also certifies that no part of his/her compensation was, is, or will be, directly, or indirectly, related to specific recommendations or views expressed in this report.

As of the date the report is published, the research analyst and his/her spouse and/or relatives who are financially dependent on the research analyst, do not hold interests in the securities recommended in this report ("interest" includes direct or indirect ownership of securities).

The research analyst in not employed by JME Financial Services (Pty)Ltd. You are encouraged to seek advice from an independent financial adviser regarding the suitability of the investment, under a separate engagement, as you deem fit that conforms to your specific investment objectives, financial situation or particular financial needs before making a commitment to invest.

The laws of the Republic of South Africa shall govern any claim relating to or arising from the contents of the information/ research provided.

JME Financial Services (Pty) Ltd trading as ZA.CAPEX.COM acts as intermediary between the investor and Magnasale Trading Ltd, the counterparty to the contract for difference purchased by the Investor via ZA.CAPEX.COM, authorised & regulated by the Cyprus Securities and Exchange Commission with license number 264/15. Magnasale Trading Ltd is the principal to the CFD purchased by investors