The dollar was sold on the market, and bond interest rates dropped even further to 3.80% for the 10-year bond.
Yesterday's session started with a continuation of the market rally amid a series of positive news.
On the one hand, the production price index data came in well below market expectations, at 8% year on year, following a downward revision of the previous month to 8.4%. Although this figure normally has little market impact because it does not have a high degree of correlation with major inflation figures such as the CPI, it was received enthusiastically this time by investors because it confirms the favorable evolution of prices following the CPI crash last week.
The dollar was sold on the market, and bond interest rates dropped even further to 3.80% for the 10-year bond.
The stock market indexes kept going sharply up, which was helped by the fact that retail giant Wal-Mart released good earnings numbers and gave positive revenue estimates for the next few months on the same day. This suggests that consumption has not been adversely affected despite the Federal Reserve's massive interest rate hikes. So far, the markets have been optimistic. This is because Federal Reserve officials have said that the next rate hike will probably be smaller and that the Fed will probably stop raising rates soon if inflation keeps going up and employment starts to go down.
However, unexpected news does occasionally emerge in these markets, shaking everything up. According to the Associated Press, a Russian missile struck Polish territory near the Ukrainian border, killing two people. If true, this would be reason enough for NATO to enter the conflict with Russia, increasing the likelihood of a nuclear confrontation.
Stock indices plummeted, the dollar was bought against all its peers as a safe haven as were treasury bonds, driving the 10-year bond yield down to 3.75%.
The tension lasted a while, as investors awaited news about the incident and the Polish security committee met in an emergency session.
The tension gradually dissipated following a Pentagon statement that did not have confirmation of this fact - if it had been a Russian attack, they would have been informed immediately - and news from Polish radio that it was the remains of a rocket shot down by the Ukrainian army and whose remains had fallen on the other side of the border. Even though it is a serious event, it is not as serious as a direct attack from Russia, which would have resulted in a massive escalation of war tensions and, of course, a market meltdown.
The market slowly recovered and the US indices ended another day positive with the S&P500 up more than 0.50%.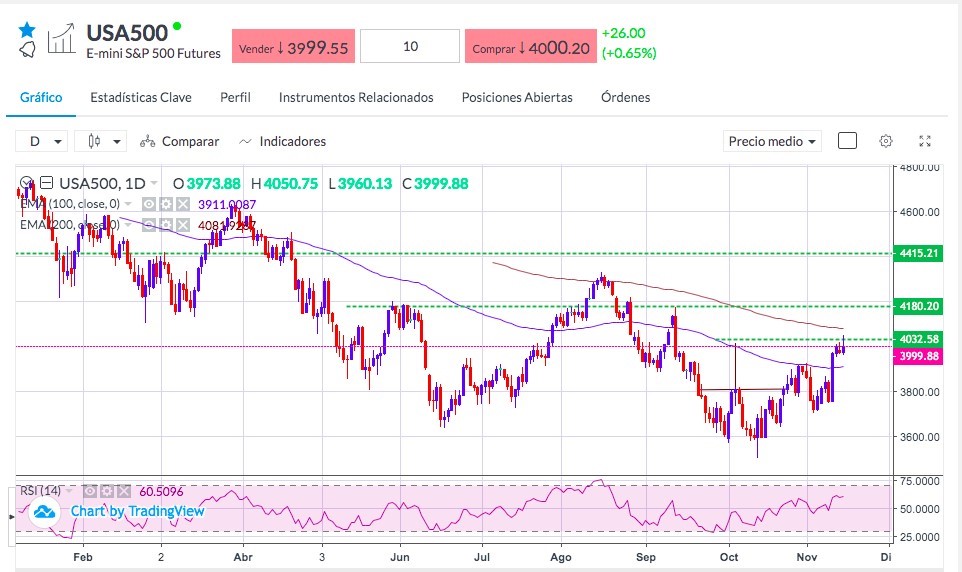 Sources: Bloomberg, Reuters
This information/research prepared by Miguel Ruiz ("the research analyst") does not take into account the specific investment objectives, financial situation or particular needs of any particular person. The research analyst primarily responsible for the content of this research report, in part or in whole, certifies that the views about the companies and their securities expressed in this report accurately reflect his/her personal views and consequently any person acting on it does so entirely at their own risk.

The research provided does not constitute the views of JME Financial Services (Pty)Ltd nor is it an invitation to invest with JME Financial Services (Pty)Ltd. The research analyst also certifies that no part of his/her compensation was, is, or will be, directly, or indirectly, related to specific recommendations or views expressed in this report.

As of the date the report is published, the research analyst and his/her spouse and/or relatives who are financially dependent on the research analyst, do not hold interests in the securities recommended in this report ("interest" includes direct or indirect ownership of securities).

The research analyst in not employed by JME Financial Services (Pty)Ltd. You are encouraged to seek advice from an independent financial adviser regarding the suitability of the investment, under a separate engagement, as you deem fit that conforms to your specific investment objectives, financial situation or particular financial needs before making a commitment to invest.

The laws of the Republic of South Africa shall govern any claim relating to or arising from the contents of the information/ research provided.

JME Financial Services (Pty) Ltd trading as ZA.CAPEX.COM acts as intermediary between the investor and Magnasale Trading Ltd, the counterparty to the contract for difference purchased by the Investor via ZA.CAPEX.COM, authorised & regulated by the Cyprus Securities and Exchange Commission with license number 264/15. Magnasale Trading Ltd is the principal to the CFD purchased by investors