Unexpectedly, the European Central Bank has announced through a media leak that it will decide to raise 50 bps instead of the expected 25 bps
What seemed impossible at first appears to turn into reality, with all the precautions that should be taken with such news. But everything indicates that the ECB is determined to tackle inflation more decisively.
However, if the ECB raises rates by 50 bps and it presents a credible plan to avoid the fragmentation of peripheral bonds, especially in Italy, the market will most likely receive a boost.
Investors now anticipate this possibility and have reacted very positively to the news.
Even though a rise in interest rates, especially if it is more aggressive than expected, usually hurts risk assets. On this occasion, the market needed a central bank more determined to fight against inflation and, above all, with determination and without hesitation.
And because of this, the European indices experienced notable increases yesterday with special reference to the German DAX index, which advanced more than 3%, the largest rise in recent months.
In this case, another of great importance was added to the news from the European Central Bank. This is the possibility that the Nord Stream gas pipeline will start operating again and that the Russian company Gazprom will resume the gas supply to Europe.
Although the latter has not yet been confirmed and will not be done immediately, the mere fact that this possibility exists has aroused optimism in the markets. This has also been noted in the price of European Natural Gas, which has fallen to 157 euros/MWh, from the 182 euros/MWh it had recently reached.
All the above has been reflected now in the Euro price. Just a few days ago, there was widespread talk that EUR/USD was sinking below parity due to fears of a deep recession in Europe and the inaction of the European Central Bank. In just one day, the situation turned around, and the pair came to trade near 1.0280 (0.50% Fibonacci retracement of the last leg down).
Everything will depend on what the ECB says and does at its meeting tomorrow.
It will be very important not only that they decide to raise 50 bps but also how they communicate their future actions to the market and the plan to protect the bonds of peripheral countries. It must be credible and clear; any error in communication that raises doubts, as on previous occasions, could ruin this whole new scenario of greater optimism.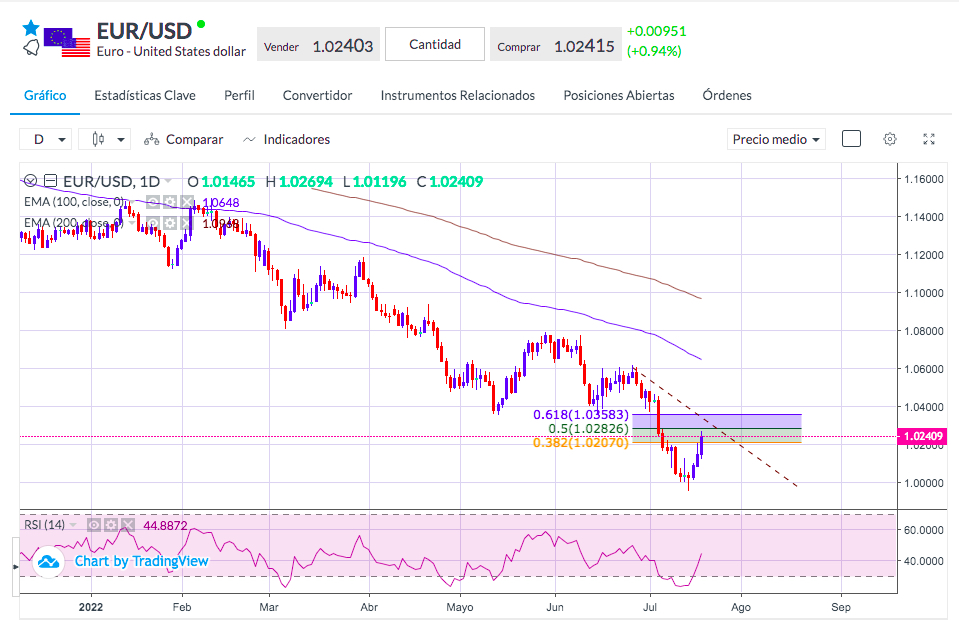 Sources: Bloomberg, Reuters.
This information/research prepared by Miguel Ruiz ("the research analyst") does not take into account the specific investment objectives, financial situation or particular needs of any particular person. The research analyst primarily responsible for the content of this research report, in part or in whole, certifies that the views about the companies and their securities expressed in this report accurately reflect his/her personal views and consequently any person acting on it does so entirely at their own risk.

The research provided does not constitute the views of JME Financial Services (Pty)Ltd nor is it an invitation to invest with JME Financial Services (Pty)Ltd. The research analyst also certifies that no part of his/her compensation was, is, or will be, directly, or indirectly, related to specific recommendations or views expressed in this report.

As of the date the report is published, the research analyst and his/her spouse and/or relatives who are financially dependent on the research analyst, do not hold interests in the securities recommended in this report ("interest" includes direct or indirect ownership of securities).

The research analyst in not employed by JME Financial Services (Pty)Ltd. You are encouraged to seek advice from an independent financial adviser regarding the suitability of the investment, under a separate engagement, as you deem fit that conforms to your specific investment objectives, financial situation or particular financial needs before making a commitment to invest.

The laws of the Republic of South Africa shall govern any claim relating to or arising from the contents of the information/ research provided.

JME Financial Services (Pty) Ltd trading as ZA.CAPEX.COM acts as intermediary between the investor and Magnasale Trading Ltd, the counterparty to the contract for difference purchased by the Investor via ZA.CAPEX.COM, authorised & regulated by the Cyprus Securities and Exchange Commission with license number 264/15. Magnasale Trading Ltd is the principal to the CFD purchased by investors