2022 has been very tough for the Dow Jones, which has suffered in a challenging economic environment. The biggest rally in years may be another 'Bear Trap'.
Stocks have suffered since the Fed started raising rates in March, pushing the Dow Jones down as much as 25% this year. However, the index has since pared gains to just 17%, largely thanks to hopes that the worst of inflation—and the Fed's rate hikes (which curtail demand by making borrowing more expensive)—may be over.
Uncertainty continues to be the main driver of negative investor, corporate, and consumer sentiment. Inflation and Federal Reserve Board moves remain the main market threats (the Fed), while geopolitical concerns have increased.
The latest Dow Jones forecast and price predictions are influenced by data releases, especially those related to jobs, inflation, and the Fed.
In this Dow Jones analysis, we look at the recent performance, see what can drive the prices in Q4 2022, and reveal the latest Dow Jones price predictions for the coming months and years.
Dow Jones Forecast and Price Prediction
– Key Notes
Dow Jones

price prediction today

:

f

lashy rallies like

the recent

5.5% surge only tend to happen in bear markets, not bull markets

, say experts.

Dow Jones

price prediction 2022

:

stocks

may continue to rally in the next two to six weeks given the dearth of major economic data slated for release, according to Morgan Stanley.

Dow Jones

price prediction 2023

:

recent rally resembles those from March and June

, but

the index

may

plunge again

as bottoms are formed on the

back of investor capitulation and panic, something we have not yet seen

this year

.
With CAPEX.com you can trade Dow Jones through CFDs if you want to speculate on price movements or invest in Dow stocks or Dow Jones ETFs.

Any Dow Jones forecast or Dow Jones price prediction this year has proven particularly difficult as signals from various indicators (economic, fundamental, technical, etc.), not the least of which is Fed policy, have shifted quickly throughout the year.
Hope turned into anxiety in late August at a gathering in Jackson Hole where Fed Chairman Powell reiterated his intention to bring inflation back to much lower levels by swiftly raising interest rates. A better-than-expected estimate for August's inflation gave the Fed the green light to keep Powell's promise. And they did that. A bold course for interest rates was defined during the September Fed meeting, including the possibility of an additional 125 basis points increase (or 1.25% percentage point change) in 2022, placing the Fed funds rate at 4.4% by year's end.
Given the effect this has on borrowing costs for individuals and businesses, The Dow Jones (USA 30) corrected lower by 10% from mid-August through the end of Q3. Meanwhile, the 2-year Treasury rate notched its highest level since 2007 while the key 10-year rate hovers at 11-year highs. It quickly began to feel a gloomy future was coming.
Inflation – the most important driver
Where interest rates go from here will be crucial for the fourth quarter. Investors are aware that the Fed has a terrible track record of making projections, despite its advice on rates. In contrast to the present prediction of 4.4%, the Fed had predicted that the Fed funds rate would be 0.3% by the end of 2022. Investors will debate when the Fed may stop or pause this cycle of rate increases as the fourth quarter plays out. The market overhang from this is significant. The market now doesn't expect a pause until rates rise beyond 4.6%.
History shows that the Fed is often done hiking once its policy rate climbs above the 10-year Treasury yield. However, inflation will probably be the main factor influencing Fed policy in the upcoming months. A decline in inflation might revive the possibility of a soft landing.
Earnings

w

orries don't matter
There is a lot of discussion about how corporate earnings projections for the third quarter and beyond are excessively high. CFOs have every motive to kitchen-sink their forecasts, just like they did last quarter. In particular, when operating margins are high, the dollar's strength, the world's slowdown, tightening financial conditions, and geopolitical instability are all valid grounds for lowering earnings expectations.
But would cutting forecasts even matter? Lower guidance may already be in the process of getting priced in. If that is the case, the impact on the overall market could be less significant when it happens (individual stocks could still have outsized reactions). If things turn out better than expected, the market reaction could also be muted. The reason: There are bigger factors at play. Just like last earnings season, the market may be more reactive to, and more significantly impacted by, the Fed and inflation in the near term.
Having said that, corporate earnings can teach us a lot about a variety of end markets and the economy. It is important to consider earnings season.
Dow Jones

analysis

and

price forecast

–

bear market rally?
The phrase "this is a bear market rally, please disregard" is not draped over bear market rallies.
Instead, it is frequently difficult to tell these head-fakes from the actual thing during otherwise depressing stock market conditions.
Some investors discovered this over the summer the unpleasant way (again), when they took the wrong message from remarks made by Federal Reserve chair Jay Powell and ran with it.
The slightest hint from Powell that the Fed would delay its rate increases caused a surge in global stocks in July. We had a rise of about 8% in the Dow Jones index, which started to seem like a significant positive shift in the mood after a painful, dreadful, no-good year for money managers. Add to that some short-term funds folding on losing bets. It ended up being a brief summer fling. In the end, the Fed had not changed its mind, and the beatings will continue until morale rises.
Now, with a certain grim predictability (markets never rise or fall in a straight line after all) we have been through the motions all over again. Global stocks, including Dow Jones, put in an impressive 15 to 20 percent climb since mid-October. But this time, it really felt like a halfhearted effort. Even those jumping aboard thought it was a bit daft.
A study by the Bank of America revealed that the average peak-to-trough in a bear market was 37%. So far, the Dow was down about 20%, so that would suggest, if we're going to carve out a 'normal' bear market, there's much further to go for the Dow Jones and the stock market.
For famed investor Carl Icahn, this relief rally won't change his negative view on the market, and he believes a recession is still on the horizon.
"We keep our portfolio hedged," Icahn said: "I am still very, quite bearish on what is going to happen. A rally like this is of course very dramatic, to say the least... but I still think we are in a bear market."
Stocks staged a huge comeback after October's reading of consumer prices fueled bets that inflation has peaked. The Dow Jones Industrial Average jumped 1,200 points for its biggest one-day gain since May 2020. The S&P 500 jumped 5.5% in its biggest rally since April 2020.
Big bear-market rallies occur often because of the large, short interest built up in the downturn, Icahn said. While the inflation report showed some signs of easing, the founder and chairman of Icahn Enterprises believe price pressures are sticker than most think because of wage increases.
"Inflation is not going away, not in the near term," Icahn said. "We are going to have more wage inflation. A lot of people don't want to work."
David Rosenberg says stock market rallies like the 5% surge in the Dow Jones and S&P 500 tend to happen in bear markets, not bull markets: "keep in mind that there is no Fed pause. An earlier end to the tightening cycle at most, but the reality is that the Fed still intends to hike again, no matter what, into an inverted yield curve".
What a Bear Market Rally Means for Individual Investors
A bear market is a period when stock market prices decline by 20% or more for at least a two-month period. During this time, prices can start to climb before dropping back down. This is a bear market rally where a gain is followed by subsequent losses until the bear market bottoms out. Like any other market movement, a bear market rally can be an opportunity to make—or lose—money.
A bear market rally provides day traders a chance to profit by shorting stocks, a complex strategy that may not be for beginner investors.
Try Dollar-Cost Averaging
Long-term investors who are making regular additions to their accounts—especially retirement accounts—should celebrate a bear market rally since it indicates stock prices are headed lower for a while longer. People using the dollar-cost-averaging approach can buy more shares at cheaper prices until the market bottoms out. Over time, this lowers the average price of the stocks they own.
Avoid Emotional Investing
Jumping on rallying stock market prices just because you fear missing out on a market bottom is a symptom of emotional investing, which can guarantee a loss. Investors with established strategies and diversified portfolios should ignore anything that looks like the start of a sucker's rally, stick with their long-term plans, and avoid taking a hit.
Dow Jones Technical Analysis
- Dow Jones price forecast
Dow Jones Industrial Average has broken through the ceiling of a falling trend channel in the medium-long term. This indicates a slower falling rate initially or the start of more horizontal development. The index has met the objective at 32238 after the break of the rectangle formation. The price has now risen again, but the formation indicates a further fall. The index is testing resistance at point 34000. This could give a negative reaction, but an upward breakthrough of points 34000 means a positive signal.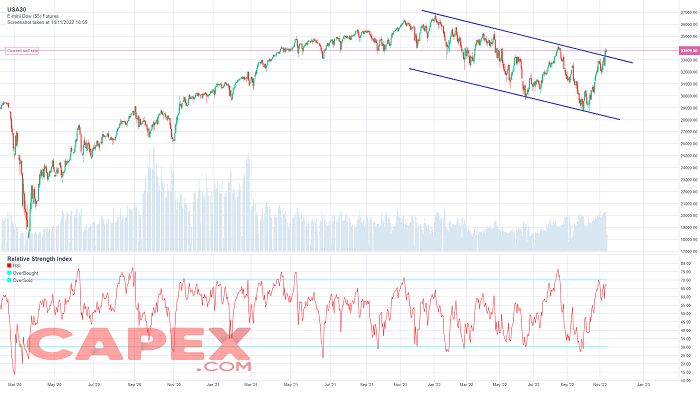 RSI above 70 shows that the index has strong positive momentum in the short term. Investors have steadily paid more to buy the index, which indicates increasing optimism and that the price will continue to rise. However, particularly for big stocks, a high RSI may be a sign that the stock is overbought and that there is a chance of a reaction downwards. The index is overall assessed as technically negative for the medium-long term.
Visit CAPEX Academy for more free courses on technical analysis that could help you forecast Dow Jones and make more informed Dow Jones price predictions for 2022 and beyond.
Factors Affecting

Dow Jones

Forecast

For

the Next 3-6 Months
Today's challenging conditions could grow even worse if the economy falls into a recession, which is now more likely as the Fed moves to raise rates in a more aggressive manner than before.
Also, the second year of President Joe Biden's term comes with worrying historical baggage. Since the Second World War, year two of a presidency brought below-average stock market returns of around 5%, Stovall says. This compares to an average gain of 9.2% in all years since then.
We're getting increased volatility. Now the question is whether the market has factored in all of the worries about the Fed and so forth with its peak-to-trough decline or whether could there be more ahead.
Wall Street analysts expect at least another move down in the second half of the year, so when we get into October that will be, from the top of the Dow Jones index ... about nine months. The presumption is that a lot of the time bear markets, shorter ones, last nine months. Longer ones will keep on going for about a year and a half.
Inflation And

Dow Jones

Forecast
Some investors may fear that the current predicament is similar to that suffered in the 1970s when Federal Reserve Chairman Paul Volcker unleashed enormous interest rate hikes to quell runaway inflation.
The federal funds rate reached a peak of 20% in June 1981. While this induced a recession, it also tamed inflation and ushered in an unprecedented era of economic growth.
Inflation had been running in double digits for nine years when Volcker took the helm. The U.S. also was coming through crises, including two oil embargoes and price control measures invoked by the Nixon administration. In contrast, the current spiraling inflation is relatively short-lived.
Paul Volcker really had a massive job on his hands and rose the fed funds rate to 20% to kill what at the time was 14% inflation.
What Investors Should Do

In

The

Bear Market
So with all the risks hanging over the stock market forecast for the next six months, what should investors do? Cash is often seen as dead money. At the same time, protecting one's capital by shielding it from vicious drawdowns is the hallmark of the exceptional stock market investor.
While it is easy to switch off and focus on other things when stocks are struggling, it can actually be the best time to turn yourself into a better investor.
When it's hard to make progress in the market, this is a great time to study what you did in the prior bear market, according to experts.
Dow Jones prediction 2022 and beyond from experts*
As for Dow Jones price predictions, Trading Economics expected the US30 index to trade at 27,863.74 points by the end of 2022 and estimated the index could drop to 25,430.69 in 12 months' time, based on its global macro models and analysts' expectations.
As of the 1st of October, the Economy Forecast Agency predicted the index to trade at 26,303 points by the beginning of November 2022.
Below is the algorithm-based Dow Jones price prediction for the next 12 months. A sell-off should start at this point and continue during the month of November, followed by a steady downward trend in the next 9 months of 2023.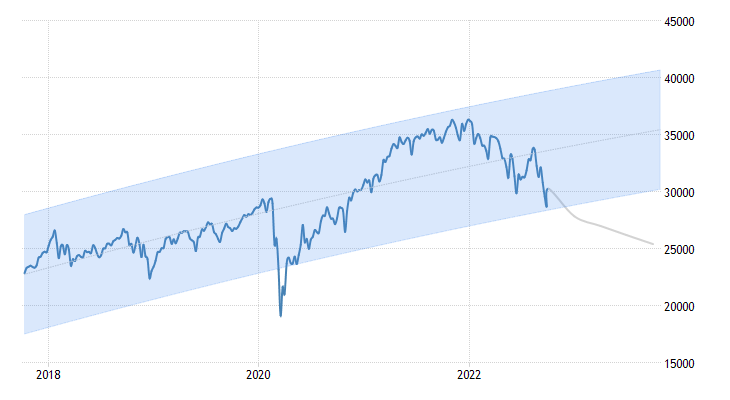 Algorithm-based forecasting service Wallet Investor was bullish on the Dow Jones index, saying DJIA is "a good long-term (1-year) investment". It estimated the index to climb to 26,303 points in Mid 2023, rising to 41,167.60 points in Mid 2024 and 45,801.33 points in Mid 2025.
However, the agency downgraded their Dow Jones price predictions lately and forecasted Dow Jones will close in 2022 at 27539.50 points.
The updated Dow Jones price prediction 2024 is $29017.20.
Long Forecast expects Dow Jones to trade at 25,544 points by the end of 2022 and around 22,829 points by the end of 2023. In two years from now, the agency forecast Dow Jones to trade at 28,346 points. The agency is forecasting Dow Jones to resume its uptrend starting in May 2024.
The forecasting services did not provide a 10-year Dow Jones price prediction.
Dow Jones Price Prediction 2025-2030 (USA30 Forecast)
While some advisors are optimistic that the bull market will continue, others are preparing investors for what they see as its imminent end. As the current bull is now the second-longest ever, these advisors say that the odds are overwhelming and that it will soon be going bearish.
However, Dave S. Gilreath, partner and founder of Sheaff Brock Investment Advisors, is confident and sees a bright economic and other market future ahead. He believes the current bull is likely to continue galloping for years to come, pushing the Dow Jones Industrial Average above 40,000 by 2025.
Companies typically grow their earnings over time. Assuming an average growth of net earnings is 7% per year, in a five-year period a company's cumulative profits will be about $40 for every $100 invested.
Reasoning onward, using a mathematical forecasting model, analysts revealed more interesting results. The year 2020 marks when this math equation took us above 30,000. In 2030, projections and trends show that the Dow would reach 50,000, says Brian Evans - the owner of Madrona Funds, LLC, and Bauer Evans CPAs, who also serves as the firm's chief investment officer, lead planner, and senior portfolio manager.
*It is worth keeping in mind that both analysts and online forecasting sites can and do get their predictions wrong. Keep in mind that past performance and forecasts are not reliable indicators of future returns. When considering Dow Jones price predictions for 2022 and beyond, it's important to keep in mind that high market volatility and macroeconomic environment make it difficult to produce accurate long-term Dow Jones analysis and estimates. As such, analysts and forecasters can get their Dow Jones forecast wrong.
It is essential to do your research and always remember your decision to trade depends on your attitude to risk, your expertise in the market, the spread of your investment portfolio, and how comfortable you feel about losing money. You should never invest money that you cannot afford to lose.
Factors That Can Impact the Dow Jones Stock Price
Current News

-

T

he price of the Dow Jones is calculated using data from its companies. That is why it is important to keep a close eye on all the major news and results of the companies that weigh the most in this reference index.

Economic Data

- Figures may include unemployment, trade balance, GDP growth rate, inflation rate, retail sales, durable goods, industrial orders, business sentiment, or consumer confidence.

U.S. Dollar

- The value of the U.S. dollar will affect the export or import profitability of U.S. listed companies. If the U.S. dollar is going down, the stock index tends to rise also.

FED

- Communications from the U.S. Federal Reserve on interest rates, as well as the press conferences of these organizations usually impact the Dow Jones index.
Is Dow Jones a good investment?
Since its inception in May 1896, the Dow Jones index has returned a total of 1,710.902% with an annualized 2.325%. The values are adjusted for inflation according to the Dow Jones Return Calculator, Dividends Reinvested (DQYDJ).
In recent years, the Dow Jones price has risen enormously, as can be seen in the above tables. The Dow Jones rate has been tracked since 1896, and in 1976, the 1000-point limit was broken. Subsequently, the limit of 20,000 points was reached in 2017, and the Dow Jones price is now already at more than 30,000 points.
Nevertheless, the question remains where the limit lies for the Dow Jones index. What has become clear is that the Dow Jones price has become much more volatile, with daily fluctuations of hundreds of points being no exception.
Analysts outlined in the article viewed the Dow Jones Industrial Average (US30) could reverse the downtrend if inflation started to slow. However, the Fed signaled at the 4 May meeting that further rate hikes were expected as inflation is likely to remain elevated in the coming months.
Whether or not Dow Jones is a good investment for you depends on your attitude to risk, your expertise in this market, the spread of your portfolio, and how comfortable you feel about losing money.
Why has the Dow Jones been going down?
The index has been going down in recent weeks due to the Fed's interest rate hikes. The Fed has increased borrowing costs twice this year and has indicated more increases in the pipeline to bring inflation down to its target of below 2%.
Rising costs due to spikes in commodity and energy prices – partly induced by the Russia-Ukraine conflict, have also hurt the index on expectations that spiking costs would cut companies' earnings. In addition, the war has dampened markets' sentiment and raised uncertainties about economic growth.
If no bad news comes out about one of the 30 companies included in the index, and indicators signal a slowdown in inflation, the Dow Jones is projected to go up in value.
Is the Dow Jones going to crash?
This is unlikely because the DJIA includes only high-quality, economically relevant stocks. If they weaken, either in performance or relevance, they are cut from the index and are replaced by others.
How to forecast Dow Jones?
The Dow Jones Industrial Average is a perfect indicator of the US general economic state. The Dow Jones index is quite responsive to domestic and foreign economic and political events. The stock index and local currency trends are often positively correlated.
How many Dow Jones companies are there?
DJIA (US30) tracks the stock performance of 30 large publicly-listed companies on the US stock exchanges. A committee of representatives from S&P Dow Jones Indices and The Wall Street Journal selects the companies that appear on the index.
This information/research prepared by Miguel Ruiz ("the research analyst") does not take into account the specific investment objectives, financial situation or particular needs of any particular person. The research analyst primarily responsible for the content of this research report, in part or in whole, certifies that the views about the companies and their securities expressed in this report accurately reflect his/her personal views and consequently any person acting on it does so entirely at their own risk.

The research provided does not constitute the views of JME Financial Services (Pty)Ltd nor is it an invitation to invest with JME Financial Services (Pty)Ltd. The research analyst also certifies that no part of his/her compensation was, is, or will be, directly, or indirectly, related to specific recommendations or views expressed in this report.

As of the date the report is published, the research analyst and his/her spouse and/or relatives who are financially dependent on the research analyst, do not hold interests in the securities recommended in this report ("interest" includes direct or indirect ownership of securities).

The research analyst in not employed by JME Financial Services (Pty)Ltd. You are encouraged to seek advice from an independent financial adviser regarding the suitability of the investment, under a separate engagement, as you deem fit that conforms to your specific investment objectives, financial situation or particular financial needs before making a commitment to invest.

The laws of the Republic of South Africa shall govern any claim relating to or arising from the contents of the information/ research provided.

JME Financial Services (Pty) Ltd trading as ZA.CAPEX.COM acts as intermediary between the investor and Magnasale Trading Ltd, the counterparty to the contract for difference purchased by the Investor via ZA.CAPEX.COM, authorised & regulated by the Cyprus Securities and Exchange Commission with license number 264/15. Magnasale Trading Ltd is the principal to the CFD purchased by investors