Dogecoin lost over 90% of its value as it reached $0,05 at the end of H1 2022. Is DOGE a Buy, Sell, or Hold on the recent dip? CAPEX looks at DOGE's forecast for 2022 and beyond.
Dogecoin was launched as a joke coin on Reddit in December 2013. The coin quickly became mainstream and was used for online tipping and charity.
Since its launch, it has become one of the most important crypto assets over the years and the largest meme coin. As of 2022, Dogecoin is ranked among the 10 most valuable crypto assets based on market capitalization.
Dogecoin's price had an outstanding performance in 2021. However, sentiment though has shifted in the cryptocurrency world and in particular away from meme coins.
Concerns about geopolitical instability, a hawkish Federal Reserve, and rising inflation are among the factors influencing the larger bearish trend, all of which have shifted the mood.
The sector's "whales," or those who own a big number of coins, also seem to be a factor as they liquidate their holdings to cut losses and get ready for a longer-term decline.
Because of their capacity to impact the trend of a coin with limited utility, meme coins are well-liked by whales. Institutions like hedge funds, which see cryptocurrencies as high-risk assets and look to move their money to the safer ground during periods of increased danger, are making up an increasing portion of these whales.
But what is the outlook for dogecoin's future price? Will the DOGEUSD price continue to drop in 2022? Will the Dogecoin price surge or plunge in 5 years?
Dogecoin

Outlook: Where we are now
Dogecoin was founded in December 2013 by Jackson Palmer, who was later joined by programmer Billy Markus. The coin's logo is a viral internet meme of a Shiba Inu Japanese breed dog. Although Palmer left in 2015, Markus continues to be its chief developer. Dogecoin developers insist that, despite the humorous façade, they have taken responsibility for the project and its users over the years.
In the beginning, Dogecoin's most common use was to tip individuals who shared or create great content. It's easy-to-use crypto, perfect for day-to-day payments of goods and services. Dogecoin's community sees it as the perfect alternative to fiat currency. Also, unlike Bitcoin, it can fulfill the need for crypto payments, as DOGE transfers are fast and cheap.
The rise of Dogecoin had to do with the bullish trend that started in December 2020 and Bitcoin's price evolution. However, unlike other cryptos, Dogecoin benefited from external support from social media influencers and celebrities.
It's not a secret anymore that Elon Musk is a big supporter of Dogecoin.
Dogecoin's tremendous growth in 2021 was also aided by the implementation of additional use cases for the coin. For instance, the Dallas Mavericks and AMC Entertainment started to accept Dogecoin as payment for their tickets.
Dogecoin's price has dropped 70% from the beginning of 2022.
Dogecoin is one of the coins with the largest fanbase of all cryptos. Dogecoin's official Twitter account has almost 3 million followers. It is also the most popular meme social media coin, as it originated from Reddit.
It's important to note that Dogecoin lost 70% of its value after reaching a new all-time high in May 2021. The entire market entered a downtrend that was triggered by the price decrease of Bitcoin.
Since the beginning of 2022, the price of Dogecoin has dropped another 70%. However, the DOGE community is optimistic about the coin's future in 2022. The coin enjoyed widespread institutional adoption in 2021 as a payment method and this trend continued in 2022, as more retailers are now supporting DOGE as a payment method.
In 2021, Tesla was heavily linked to Dogecoin. Dogecoin was announced as an alternative payment option to Tesla merchandise. In 2022, it is estimated that 27% of businesses will accept crypto payments and the top three coins will be Bitcoin, Ethereum, and Dogecoin.
With 2022 already looking like another roller-coaster period for digital currencies, CAPEX looks at Dogecoin's price predictions from best-rated websites and experts.
Dogecoin

Price Prediction 2022 and beyond
Even though there have been many storms on cryptocurrency exchanges, Dogecoin may have a bright future. It is not exaggerated to say that meme coin has survived all hailstorms.
Dogecoin is not the only digital currency that has seen significant volatility due to the pandemic. Dogecoin's price has experienced dramatic changes in the past year.
Dogecoin has received a lot of social media attention in the past and it continues to be one of the community's favorite coins. This will continue to attract long-term investors. As of July 2022, Dogecoin has a market capitalization of over $9.8 billion. The DOGE's price hovers above $0.06, and some predictions expect to see Dogecoin trading at $0.18 by the end of the year.
DOGE price prediction site Wallet investor suggests that Dogecoin's price will rise above $0.10 in 2022. The Dogecoin forecast for 2022 predicts that the price of DOGE will rise throughout the year, reaching a maximum of $0.183 in December 2022.
DigitalCoin is not that optimistic about its Dogecoin forecast. It predicts that the price of DOGE will average $0.091 by the end of 2022.
The long-term forecast for Dogecoin from Price Prediction shows that the price will rise between $0.097 and $0.12 in 2022 and that the coin has a growing trend.
Trading Beasts has set a Dogecoin price target between $0.07 and $0.09 in 2022. They predict that the maximum price of Dogecoin will be $0.11 by the end of 2022.
According to Long Forecast, Dogecoin can reach a maximum of $0.06 in 2022, and the average price of Dogecoin by the end of 2022 could be $0.03.
It's important to remember that analysts' forecasts can be incorrect when predicting Dogecoin prices. Analysts make projections based on a technical and fundamental analysis of the crypto's performance. However, past price performance does not guarantee future results.
You should do your research and remember that trading decisions are influenced by your attitude towards risk, market knowledge, and your tolerance for losing money. The consensus, when it comes to crypto, is to not invest more than you can afford to lose.
Our Dogecoin

Prediction Today
The public support of Elon Musk continues to help boost the price of Dogecoin. It is expected to see significant price growth in the future due to celebrity support. Musk also announced in a tweet that Dogecoin will be a payment option for Tesla merchandise (Cyberwhistle and Giga Texas Belt Buckle as well as the Cyberquad for Kids).
The community expects to see more companies accepting Dogecoin as payment, and this will drive Dogecoin's price up. US-based movie theatre chain AMC Theatres accepts DOGE as payment for tickets. Mark Cuban, Dallas Maverick owner, also accepts DOGE coins to purchase tickets and merchandise. There is a huge community behind the coin and nothing stops them. After getting all this attention, Dogecoin is now listed on all major crypto exchanges, which makes it easier for retail inventors to add it to their portfolios or simply use it for payments.
According to Cryptwerk, over 1900 merchants accept Dogecoin as payment.
Although DOGE does not have many use cases, it will continue to get a lot of attention if online celebrities talk about it. The future tweets of Elon Musk can have a significant impact on this meme coin's price.
It is important to point out that Dogecoin Foundation released a roadmap that details the 2022 updates. This plan aims to make DOGE more useful, and the examples used are using DOGE for buying coffee and paying rent. They want DOGE to be more widely accepted as payment.
The Gigawallet Project is another development. Developers will be able to add DOGE transactions to their platforms using the API solution. DOGE plans to create community staking to help move the coin ecosystem from Proof-of-Work (PoW) to Proof-of-Stake (POS).
Elon Musk announced a SpaceX mission that is entirely funded by Dogecoin, thus becoming the first space mission funded by a cryptocurrency. Originally, the launch was planned for the first quarter of 2022, but it was postponed to December 2022.
Dogecoin is likely to resume its upward price trend as all these developments get implemented.
According to the Dogecoin one-year forecast, DOGE's average price is expected to surpass $0.10 by the end of the year.
The chart pattern and bullish divergences indicate Doge's price will more likely recover its momentum and move above the descending channel in 2022. The most optimistic Dogecoin's price target for the end of the year points at $0.18 if the price breaks the $0.07 key resistance zone, while the low could be $0.063 within the falling channel pattern.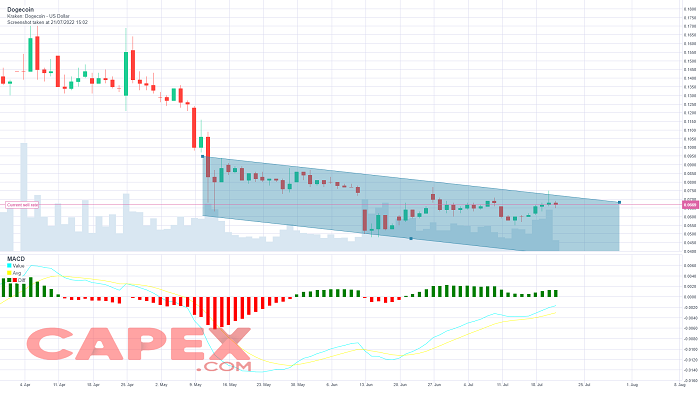 While we can speculate about the potential price of Dogecoin over the next months and years, the truth is that Dogecoin still is a highly speculative investment. There are not much historical data to support these predictions. It is important to invest only what you are willing to lose and include some traditional investment instruments to build a strong portfolio.
Your investments should be small, and you should not place crypto investments above other financial goals, such as saving for retirement or paying off high-interest debt.
Dogecoin

Price Prediction 2025
There are indications that the crypto market is entering a new era.
There is no doubt that DOGE's long-term price prediction will rise as there is still optimism about the currency attracting more attention.
According to the latest DOGE price predictions, it could reach $0.229 or more by the end of 2025. WalletInvestor predicts that the maximum price in 2025 could be $0.418. On the other hand, $0.04 could be the lowest price. However, future results do not always reflect long-term earning potential. It is important to analyze the potential financial consequences of this investment to determine if it is a wise financial decision.
Dogecoin Price Prediction 2030
Are you expecting Dogecoin to rise in value? The same applies to Dogecoin price predictions as it does to weather forecasts. The further we go into the future, the harder it becomes to try to predict the price of Dogecoin. The world of 2030 may be quite different from what we see now. What does 2030 hold for Dogecoin?
By 2030, experts forecast that Dogecoin's price could surpass $0.80. If the market becomes bullish, the minimum price could rise to $0.30, according to a 2030 Dogecoin prediction from DigitalCoinPrice.
Is It Possible to Forecast the Price of

Dogecoin

?
Many price predictions for Dogecoin are flawed because they lack the necessary analytical support. Investors will always be attracted to a high price point, especially one that is on an upward price trend. Someone holding a cryptocurrency priced at $0.01 could easily believe that it will rise to $10,000 just because it sounds good.
The problem is that predictions can be made without any evidence or analysis. However, three types of analysis have been used in the financial world for a long time to try and forecast prices and the evolution of markets.
Technical Analysis

Fundamental Analysis

Sentimental Analysis
Dogecoin Forecast using fundamentals
Investors in financial markets use fundamental analysis to study and evaluate the variables that impact an asset's price.
You can assess the intrinsic value of a cryptocurrency to determine if it is undervalued or overvalued. This can be achieved by analyzing qualitative factors like the state of the economy and cryptocurrency market conditions, as well as the management and market capitalization of crypto companies.
Fundamental analysis can help traders determine the price of a cryptocurrency based upon a wide range of information. This could be a great way to make long-term investment decisions.
How to conduct a Dogecoin price prediction today using fundamentals?
Fundamental analysis is when you examine the fundamentals of cryptocurrency projects, from their market capitalization to the utility and value of the native token.
Do not confuse the fundamental analysis and technical analysis. Fundamental analyses of cryptos are more qualitative and less tangible than statistical trends like price charts or historical market data.
The fundamental analysis of cryptocurrency is like that of traditional financial markets with more traditional assets such as stocks. It is not as important to focus on a company's historical financial performance, financial statements, or balance sheets.
The following parameters can be used to help investors predict trends in crypto markets:
Market capitalisation

Total and circulating supply

Token utility and use cases

Community size

The team of the crypto project

The crypto's trading volume
Crypto exchanges listings
Partnerships with trusted institutions
The latest news about the coin
Government rules and regulations
It is important to remember that fundamental analysis can only give you an overview of cryptocurrency investments. You can better understand the project and the future changes in cryptocurrency prices by looking at all the information. To get a better picture, you can also refer to the company's whitepaper.
You can also examine blockchain metrics which provide crucial information about a cryptocurrency's technology and processes.
Dogecoin Forecast using

technical

analysis
Technical analysis uses historical price charts and market statistics to examine and anticipate price changes in the financial markets. It is founded on the concept that if a trader can recognize historical market trends, they may anticipate future price trajectories accurately.
Whereas fundamental analysis focuses on an asset's 'real value,' considering both external and intrinsic elements, technical analysis is only based on an asset's price charts. To anticipate future movements, all that is required is the recognition of patterns on a chart.
The ability to recognize price trend cues in a market is an important part of any trading strategy. All traders must devise a strategy for determining the optimal entry and exit points in a market and using technical analysis tools is a popular technique for doing so.
Technical analysis software is now so widely utilized that many people believe it has established self-fulfilling trading rules: As more traders use the same indicators to find support and resistance levels, more buyers and sellers will congregate around the same price points, repeating the patterns.
In general, technical analysts look at the following broad types of indicators, formations, and theories:
Price trends (

trendlines

,

channels

,

Elliott Waves

,

Dow Theory

)

Chart patterns (

double tops and bottoms

,

head and shoulders

,

triangles

,

wedges

)

Price action (

pin bar

,

inside and

outside bars

,

and different

candlesticks chart patterns

like Doji candle)
Trend following indicators (

moving averages

,

Ichimoku

,

Parabolic SAR, ZigZag,

ADX

)

Volatility indicators (

Bollinger bands

,

ATR

)

Oscillators (

RSI

,

MACD

,

CCI

,

Stochastic

)

Support and resistance levels (

Fibonacci retracements

,

pivot points

)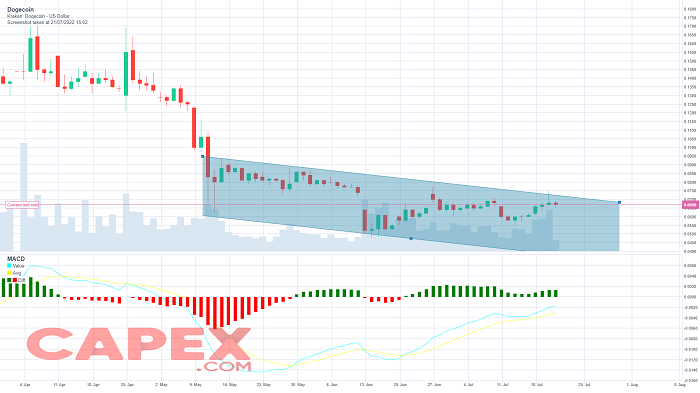 In the recent bearish run, the Dogecoin price followed a downward channel.
There are two ways to trade using channels – either by trading the trend or trading the breakout once the trend has been completed. Trading the trend will involve taking a position consistent with the overall direction of the trend, such as going long in an ascending channel and going short in a descending channel.
However, you can also take a position in the opposite direction to a trend during a temporary retracement, which could eventually turn into a more permanent reversal. If this is the case, you will want to have entered the trend at an early stage, such as when the price first hits support, in order to benefit from any long-term change in price against the prevailing trend.
Trading the breakout will mean that you take a position on any price action which breaks through the upper band of the channel. For example, you could take a long position if the DOGE price breaks above the upper band of the channel.

Dogecoin

Price Prediction Using

Market Sentiments
In finance, the term "sentiment" refers to a viewpoint or opinion about a market's condition. The sentiment of crypto market investors towards the asset is a description of their general emotions and attitudes. It reflects the collective psychology of all those involved in trading and developing cryptocurrency.
How investors feel about cryptocurrency can have a tangible impact on market cycles and the price. It can have serious implications if enough traders act on the ideas, thoughts, and feelings they share, regardless of whether they are based upon real-world data. This is evident in how tweets by Elon Musk have impacted Bitcoin's price (a bullish sentiment).
For analyzing the sentiment of cryptocurrency markets, there are many statistics you can use. The following statistics provide vital information about the movement and trajectory of cryptocurrency assets: funding rates, sentiment indices, social media, community analysis, and whale monitoring.
The funding rates are the monthly payments that traders receive based on price differences between the spot price of currencies and tokens and the price difference between cryptocurrency perpetual contracts. Positive funding rates indicate a bullish market.
A sentiment index is used to predict whether investors will act fearfully or greedily. It can be affected by volatility, market momentum, and investor responses to surveys. A fearful market can be an opportunity to buy if it is managed correctly. Conversely, a greedy market means that it is a good moment to sell.
Another crucial aspect for assessing sentiment in crypto markets is the community's activity on social media, especially Twitter and Telegram. Investors would look for an active social network with meaningful interaction across platforms.
Whale monitoring is the process of keeping an eye out for big crypto players. A cryptocurrency whale is an investor who holds large-value transactions on multiple blockchains is called. Whale watchers spot major market participants' trades and trade accordingly.
Dogecoin Historical Prices
Dogecoin's price history dates back almost a decade. It is one of the oldest cryptocurrency altcoins. The asset has been in a long-term downtrend since the peak crypto bubble when it reached $0.018773 (early 2018), and the future outlook was very bearish.
Things looked good in 2019, and Dogecoin, as well as many other top crypto tokens, started to rebound.
It was the topic of a TikTok trend in 2020 where users tried to pump and dump Dogecoin. It was incorrectly called a stock by some users, but it still prompted people to ask, "Why is Dogecoin rising and not falling?"
Dogecoin users are encouraged to purchase Dogecoin with the expectation that Dogecoin will reach a projected value of $1. Dogecoin was close to reaching it, with a recent high of over 75 cents per DOGE. Even in 2022, online supporters still believe that $1 is possible if Dogecoin's future price action turns bullish.
Dogecoin is one of few cryptocurrencies that can be used as a payment currency and not just as a speculative investment. As of January 2022, the circulating supply is 132.67 billion DOGE. Dogecoin's current price is $0.13, with a 24-hour trading volume $1,388,252,771. As of July 2022, the circulating supply is 132.67 billion DOGE. Dogecoin's current price is $0.065, with a 24-hour trading volume of $316 million.
Is Dogecoin worth buying in 2022?
Investors are looking for better alternatives due to the decline in the value of larger cryptos such as Bitcoin. Dogecoin provides an alternative to expensive cryptos and aims to become a cryptocurrency used for payments. Overall, this innovative approach could support the price over time and make Dogecoin an attractive investment in 2022.
How high can Dogecoin go in 2022?
Most cryptocurrency forecasters have made optimistic predictions for Dogecoin's price in 2022. One of the most optimistic forecasts is $0.18, by WalletInvestor.
Will Dogecoin crash in 2022?
According to most experts and prediction websites, Dogecoin should not crash in 2022.
Does Dogecoin have a future?
Dogecoin has recently published a roadmap, which details all the developments for 2022. It is aiming to become a payment cryptocurrency, making it widely accepted and accessible by retail investors and everyday users.
What will Dogecoin be worth in 5 years?
Dogecoin has a good chance to rise over the next five years, as more individuals start using it for everyday payments.
What Dogecoin will be worth in 2025?
Considering most expert predictions, the price of Dogecoin could reach around $0.22 by 2025.
What Dogecoin will be worth in 2030?
Predicting the price of any cryptocurrency so far off into the feature is often impossible, but according to the latest price trends, the price of Dogecoin (DOGE) could reach over $0.80 by 2030.
This information/research prepared by Miguel Ruiz ("the research analyst") does not take into account the specific investment objectives, financial situation or particular needs of any particular person. The research analyst primarily responsible for the content of this research report, in part or in whole, certifies that the views about the companies and their securities expressed in this report accurately reflect his/her personal views and consequently any person acting on it does so entirely at their own risk.

The research provided does not constitute the views of JME Financial Services (Pty)Ltd nor is it an invitation to invest with JME Financial Services (Pty)Ltd. The research analyst also certifies that no part of his/her compensation was, is, or will be, directly, or indirectly, related to specific recommendations or views expressed in this report.

As of the date the report is published, the research analyst and his/her spouse and/or relatives who are financially dependent on the research analyst, do not hold interests in the securities recommended in this report ("interest" includes direct or indirect ownership of securities).

The research analyst in not employed by JME Financial Services (Pty)Ltd. You are encouraged to seek advice from an independent financial adviser regarding the suitability of the investment, under a separate engagement, as you deem fit that conforms to your specific investment objectives, financial situation or particular financial needs before making a commitment to invest.

The laws of the Republic of South Africa shall govern any claim relating to or arising from the contents of the information/ research provided.

JME Financial Services (Pty) Ltd trading as ZA.CAPEX.COM acts as intermediary between the investor and Magnasale Trading Ltd, the counterparty to the contract for difference purchased by the Investor via ZA.CAPEX.COM, authorised & regulated by the Cyprus Securities and Exchange Commission with license number 264/15. Magnasale Trading Ltd is the principal to the CFD purchased by investors