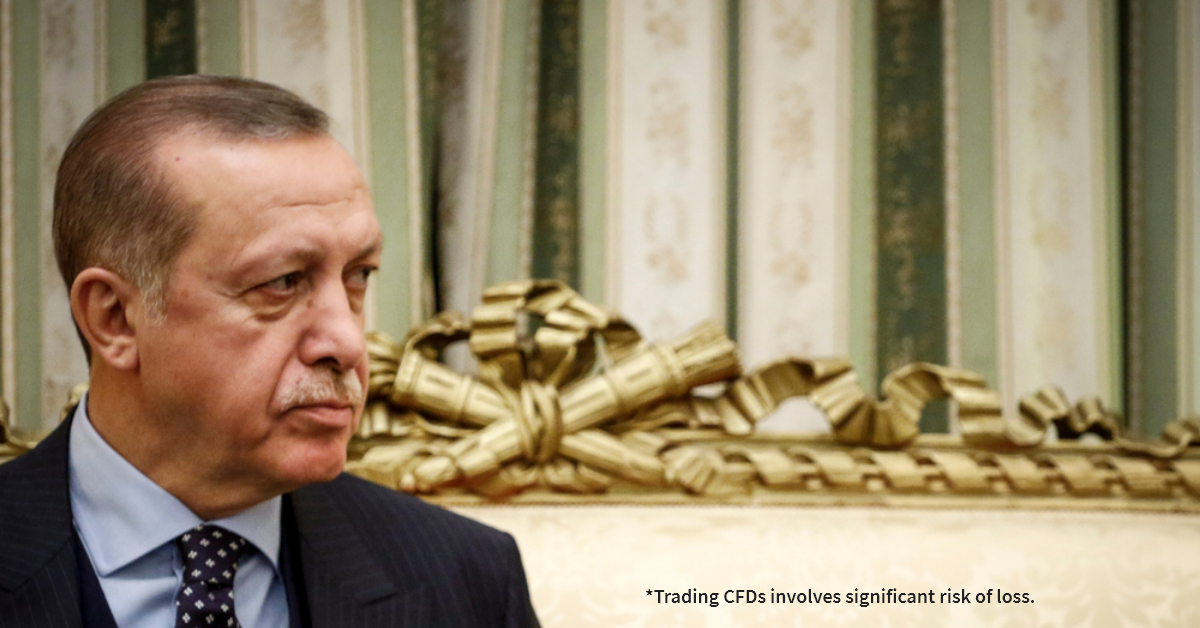 Early Monday morning Turkey's current president Recep Tayyip Erdogan announced he had won the contentious presidential elections, putting an even tighter grip on the position he has held for the past 15 years.
Currency markets had been anticipating the results of this election since the beginning of last week, with the USD/TRY becoming increasingly volatile as the week came to an end, with the USD/TRY options showing a 3% jump in either direction when markets reopen on Monday.
The move wasn't that strong, with the pair trading 1.2% lower immediately following the election results, as Erdogan's winning is seen as providing ongoing stability for Turkey and its currency. That said, some analysts believe the Turkish Lira could become increasingly volatile as the week moves forward (Bloomberg.com).
It's possible that now that Erdogan has won, traders will begin to price in a reversal of the recent interest rate hikes, which would reverse the gains for the Lira that are happening immediately following the election results. Indeed, it could see the Turkish Lira soon testing the historic May low of 4.925 per dollar.
Interest rates remain extremely high, with the Turkish 10-year Treasury yielding 16.21% at last Friday's close, but these high interest rates have done nothing to move the Lira higher in recent months or even years for that matter.
The Lira has been losing value against the USD for the past four years, with losses accelerating rapidly since the start of 2018, which could mean a pullback is looming and this election was the catalyst needed to kick off the bounce.
This information prepared by za.capex.com is not an offer or a solicitation for the purpose of purchase or sale of any financial products referred to herein or to enter into any legal relations, nor an advice or a recommendation with respect to such financial products.

This information is prepared for general circulation. It does not regard to the specific investment objectives, financial situation or the particular needs of any recipient.

You should independently evaluate each financial product and consider the suitability of such a financial product, by taking into account your specific investment objectives, financial situation or particular needs, and by consulting an independent financial adviser as needed, before dealing in any financial products mentioned in this document.

This information may not be published, circulated, reproduced or distributed in whole or in part to any other person without the Company's prior written consent. Past performance is not always indicative of likely or future performance. Any views or opinions presented are solely those of the author and do not necessarily represent those of za.capex.com