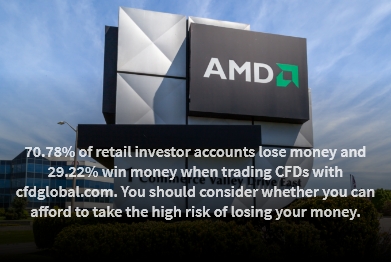 After pulling back on Thursday from a 12-year high, shares of chipmaker Advanced Micro Devices (AMD) popped higher on Friday, extending what's been an incredible rally thus far in 2018.
Friday saw AMD shares rise by 7.4%. The stock kept gaining all year, hitting new 12-year highs and rising to levels not seen since 2006, when it traded as high as $42.70 a share. It closed Friday at $32.72, so it still has some increasing to do before hitting that 2006 high.
The stock may potentially reach that level, as AMD shares are up by 201% since the start of the year, and by an incredible 220% over the past 100 days. And gains have been accelerating. Historically, AMD has reached its best gains in the last 6-8 weeks, which could lead to the stock reaching a level above the 2006 high.
Analysts continue to raise their forecasts for the stock too. On Thursday FBN Securities initiated an outperform rating and a $40 price target on the chipmaker stock. Earlier in the week Rosenblatt Securities analyst Hans Mosesmann had also raised his price target on the stock to $40 from the previous $30 forecast. Even more, Argus analyst Jim Kelleher took his price target from $23 to $40.
AMD is the best performing stock in the S&P 500 this year. In comparison with the AMD gains, the Philadelphia Semiconductor Index is up just 10% year-to-date, while the Nasdaq has gained 16.2% and the S&P 500 has an 8.6% gain.
Source: Marketwatch.com
This information prepared by za.capex.com is not an offer or a solicitation for the purpose of purchase or sale of any financial products referred to herein or to enter into any legal relations, nor an advice or a recommendation with respect to such financial products.

This information is prepared for general circulation. It does not regard to the specific investment objectives, financial situation or the particular needs of any recipient.

You should independently evaluate each financial product and consider the suitability of such a financial product, by taking into account your specific investment objectives, financial situation or particular needs, and by consulting an independent financial adviser as needed, before dealing in any financial products mentioned in this document.

This information may not be published, circulated, reproduced or distributed in whole or in part to any other person without the Company's prior written consent. Past performance is not always indicative of likely or future performance. Any views or opinions presented are solely those of the author and do not necessarily represent those of za.capex.com