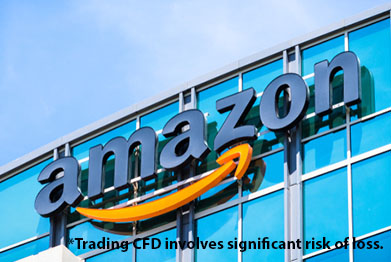 Amazon shares are up 55% so far in 2018 and nearly 500% over the past 5 years, which has some investors wondering how much further Amazon can rise. According to Morgan Stanley analysts there's still plenty of upside to the stock, which is currently at an all-time-high and is approaching $2,000 a share.
The analysts cited growth in advertising revenues, the cloud computing platform and the Amazon Prime service as a bullish case for the stock that could take it to $2,600 a share, implying a 45% upside from Thursday's close, according to Barron's.
At $2,600 a share the market cap for Amazon would be $1.3 trillion, and it isn't just the perceived valuations for those three mentioned areas that have the Morgan Stanley analysts so bullish. Rather it's the fact that the cash being thrown off by those three business areas will allow Amazon to continue investing, taking them into new areas for new profit potentials.
The Bloomberg article that mentioned the Morgan Stanley bullish case went on saying that despite the 88.85 Price-to-Earnings ratio of Amazon, it remains cheap due to the significant growth opportunities. In fact, they found that out of 52 analysts covering Amazon, just 1 doesn't recommend owning the stock.
On a more bearish note, market volumes have been declining recently, suggesting less buying of Amazon shares, and the Relative Strength Index has also been falling, which is a sign that momentum is slowing. Finally, the chart currently shows what looks like a rising wedge, which is a bearish technical reversal pattern that could be foreshadowing a drop in the stock.
Sources: Barrons.com, Investopedia.com
This information prepared by za.capex.com is not an offer or a solicitation for the purpose of purchase or sale of any financial products referred to herein or to enter into any legal relations, nor an advice or a recommendation with respect to such financial products.

This information is prepared for general circulation. It does not regard to the specific investment objectives, financial situation or the particular needs of any recipient.

You should independently evaluate each financial product and consider the suitability of such a financial product, by taking into account your specific investment objectives, financial situation or particular needs, and by consulting an independent financial adviser as needed, before dealing in any financial products mentioned in this document.

This information may not be published, circulated, reproduced or distributed in whole or in part to any other person without the Company's prior written consent. Past performance is not always indicative of likely or future performance. Any views or opinions presented are solely those of the author and do not necessarily represent those of za.capex.com